You will need to share the 'FloQast' folders with your Accounting and Finance teammates that will be collaborating on the files within. You may choose to share the entire FloQast folder or only the applicable FQ - Entity folders. Please consult with your team regarding entity access. Keep in mind that Box permissions waterfall to all subfolders, so sharing the entire 'FloQast' folder will give access to all of your FQ - Entity folders beneath. Some team members may require access to all folders, while others may only need certain entities.
FloQast recommends inviting your users as 'Editors' on the FloQast folder since they will need to add/edit/remove files from these folders. You may instead invite someone as a'Viewer'or 'Previewer' if they should have 'read-only' rights (e.g. external auditor). Share the FloQast folders with your Box users Box.com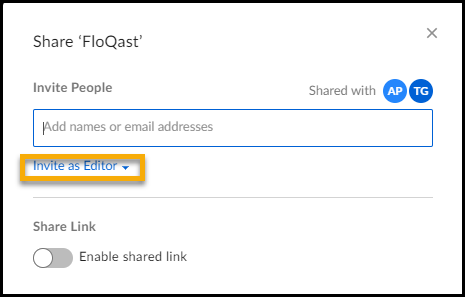 If your new user would like to sync the FloQast folders to their desktop (rather than using the web version of Box), please view our Box Desktop Sync guide here.