You will need to share the 'FloQast' folders with your Accounting and Finance teammates that will be collaborating on the files within.
You may elect to share the entire FloQast folder with your collaborators, or you may instead share only particular FQ - Entity Name sub-folders (i.e. applicable entities). Please consult with your Accounting/Finance team to determine appropriate access. Keep in mind that Egnyte permissions waterfall to all sub-folders beneath the level shared by default.
The screenshots below will demonstrate how to share the entire FloQast folder. If sharing at a lower level, please follow the same steps but perform them for the appropriate FQ –Entity folder(s).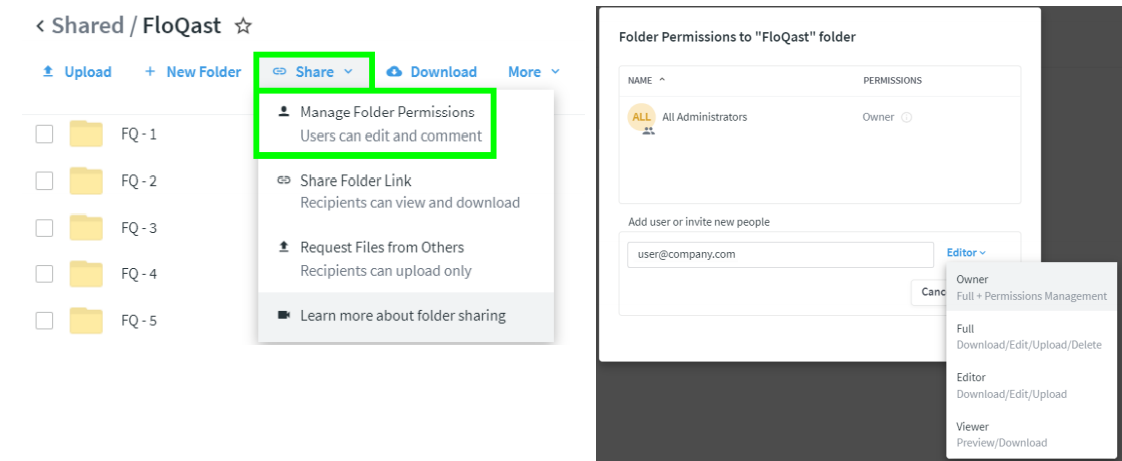 To do this, go to the FloQast folders in your Egnyte and click Share and then Manager Folder Permissions. Then, you will be able to add your users' emails and select the level of access you wish them to have before inviting them to the folders.
FloQast recommends inviting your users with 'Full' access on the FloQast folder since they will need to add/edit/remove files from these folders. You may invite someone as an 'Owner' if they will help with folder sharing, or 'Editor/Viewer' if they should have lesser rights to folder contents(i.e. external auditor).