FloQast integrates with a set of folders your team owns. These folders are located in the Cloud Storage Provider of your team's choosing (we integrate with OneDrive, Box, Dropbox, Google Drive, and Egnyte).
Your Accounting & Finance team or your IT team will share these folders with you, and you will sign into your Cloud Storage account directly to access these folders. These folders will be built for you every month, so you never need to create your own! All you are responsible for is adding your Reconciliation Workbooks (especially those Excel files with the #FQ references) to the appropriate folders.
Your folders will be perfectly mirrored between FloQast and your Cloud Storage. Underneath a top-level folder named FloQast, there will be folders named FQ - Entity Name for each of your FloQast entities. Underneath each entity, you will see the folders organized by Fiscal Year > Fiscal Month > Process folder.
In the example below, you can see FloQast side-by-side with Box:

You will add your Excel files to these Process Folders to pull the ending balances into FloQast.
If a reconciliation like '1000 Checking' exists within the '01 Cash and cash equivalents' folder in FloQast, you will want to place your Cash Reconciliation workbook in the corresponding '01 Cash and cash equivalents' folder in Cloud Storage: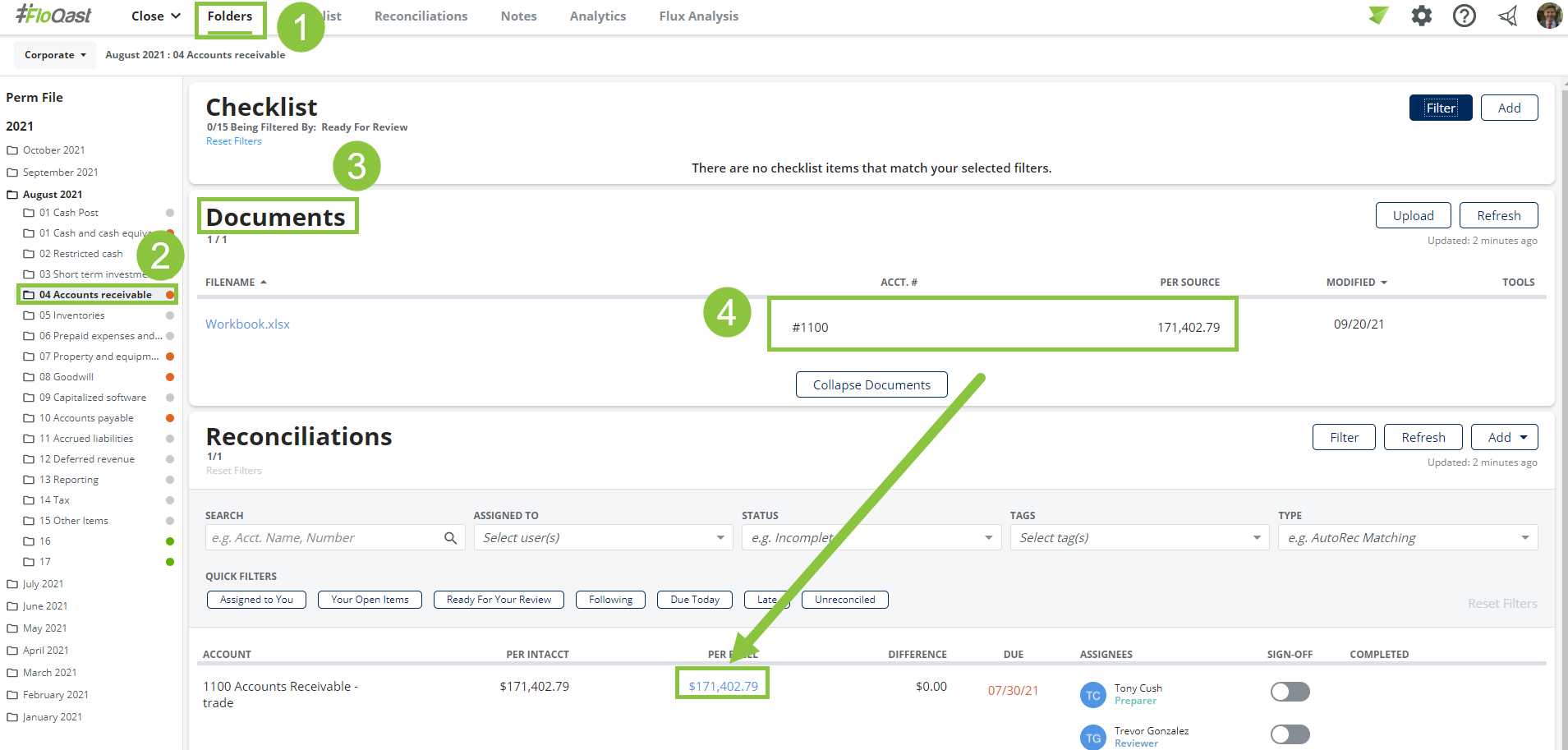 You may add this Excel file to this folder one of three ways:
1. Use the Upload functionality available in your Cloud Storage provider to add the file directly to the appropriate folder.
2. Sync the folders to your Desktop so you can access them via your File Explorer. Add the file to the appropriate folder via your File Explorer.
3. Use the Upload button within FloQast, which will place the file directly in Cloud Storage for you. The file will wind up in the same place as the first two options, but we will place it there for you!

If you need to edit a file once it has been uploaded, we strongly recommend using the Desktop Sync app provided by your Cloud Storage Provider. This will allow you to open the file in desktop Excel, make edits to the live version of the file, then save your changes right there in that folder. The latest version will be updated in Cloud Storage, and you won't need to overwrite any prior versions.