FloQast integrates with your existing Excel workbooks, which means you do not need to convert your files to webforms or make any changes to their format. There are no templates or expected formats required, so you may continue using your preferred layout, tabs, formulas, etc.
The reason FloQast integrates with your Excel documents is to pull in the ending balance for a particular GL account in a given month. This value will appear in the "Per Excel" column in FloQast. You can compare it side-by-side with your Trial Balance value and perform your sign-off once it reconciles.

In order to capture this ending balance from Excel*, one small addition is required to your workbook:
Place #FQ-AccountNumber in the cell immediately to the right of the ending balance
*NOTE: FloQast can pull balances from .xlsx, .xls, .xlsm, .csv, and Google Sheets files. You may upload other file types for documentation purposes (PDF, jpeg, EML, etc.) but ending balances will only be parsed from Excel/CSV/GSheets files.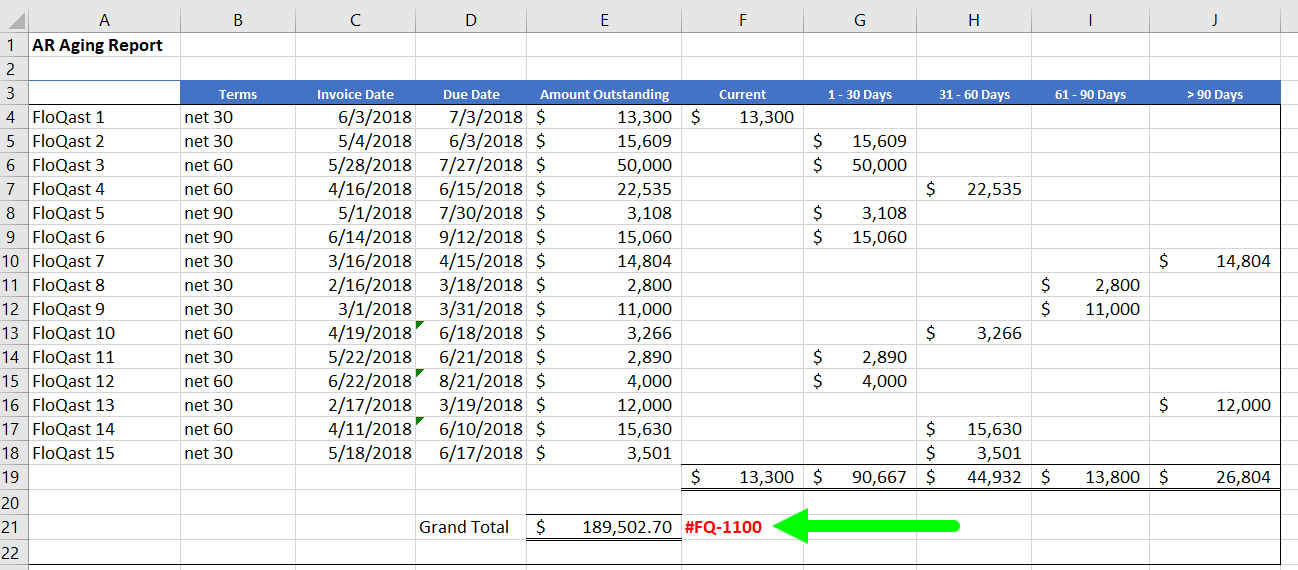 Here are some examples:
I want to capture the ending balance of $220,000.00 for GL account 1000:

I want to capture the ending balance of ($4,525.99) for GL account 21505:

I want to capture the ending balance of $750.00 for GL account USA.01.3300:

Quick Tips:
This #FQ-AccountNumber reference can appear wherever your ending balance exists in your workbook. It doesn't have to be in any particular row or on any particular tab.
You may include multiple #FQ references in the same Excel file as long as they are unique. For example, if your Accounts Receivable workbook contains the reconciliation for 1200, 1205, and 1210, you may include all three #FQ-1200, #FQ-1205, and #FQ-1210 beside their respective balances.
The exact same #FQ anchor should only appear once in a given workbook. #FQ-1200 should only appear one time beside the ending balance for GL 1200. If you roll forward each month to a new tab in Excel, remember to remove last month's #FQ reference and place it on your current tab.
Look out for hidden columns! Your #FQ reference may appear to be next to your ending balance but is really beside an empty cell if there are hidden columns between it and your balance.
The #FQ and associated balances are always visible in the Folders > Documents section for you to review: