What are Grouped Accounts?
FloQast offers Grouped Accounts, which allows you to combine multiple accounts into a single reconciliation group.
You may still want individual reconciliations with individual sign-offs on many of your accounts, especially higher-risk ones. However, you may have some low-risk or high-volume accounts that make sense to reconcile at a grouped level instead. If you'd like to create groups for Fixed Assets, Equity, Intercompany, or other accounts, please read on!
The example below depicts four accounts in a Property and Equipment folder. The preparer and reviewer are required to sign off on each individual account:

With Grouped Accounts, you can put all four of these accounts into a single group with only one set of sign-offs required:

How do I turn on Grouped Accounts?
You can add a Group in multiple places in FloQast. The simplest place is directly from the Reconciliations or Close The Books tab using the Inline Addition feature:

You can also add a Group from the Admin Settings > Reconciliations page:

This will launch a window where you can name your new group and select which accounts to add to it. This list of accounts will load from your Chart of Accounts just like the add-account menu always has: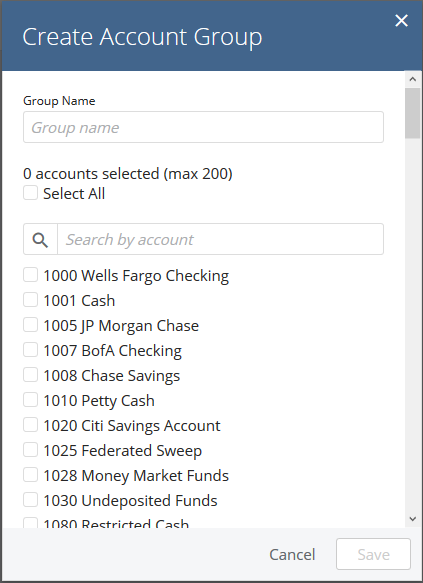 Please note the Account List is searchable, so you can filter by accounts that start with 1xxx, 20xx, etc.
How do the settings work for Grouped Accounts?
The settings for Grouped Accounts will look exactly like the settings for a single account always have. Only this time, your settings will apply to all accounts within the group:

If you use NetSuite and filter by Subsidiary or use Intacct and filter by location, you can apply a single subsidiary/location to all accounts in the Group.
Can I add/edit Groups on the Reconciliation Template?
You can add groups and edit your groups on the Reconciliation Template! Once you have added your first group in the Reconciliation Settings (as seen above), you will notice a new Column B on your exported Rec Template:

The Account Group (column B) should be left blank for all of your accounts that are reconciled individually (1600, 1610, 1620, 1630 above).
Please note, you can include the settings (assignees, due dates, etc.) in every row for each account in a group, as pictured above. They must all be the exact same settings since the entire group shares one set. If the settings are mismatched within a group, you will receive an error saying the settings don't match for every account in the Group.
You can also fill in the settings for just the first account listed in the group, as seen below. The settings will be applied to all accounts in the group as long as they share a group name in Column B:

Please contact your Customer Success Manager or support@floqast.com if you are interested in setting up Grouped Accounts! We recommend only applying these group settings to the current month and forward to avoid creating duplicates (individual account, plus account within the group). Please reach out to discuss best practices for this new time-saving feature!