The Manage Reconciliations page will control the settings for Reconciliations you complete by folder. You can add new Reconciliations by easily searching the Chart of Accounts in your General Ledger.
Note: If you are an Intacct or NetSuite client, the GL accounts from the Chart of Accounts will be visible upon trying to add the new account. If you notice an account missing from the Add Account menu, click here.
If you are a TB upload client, make sure the account appears on the Chart of Accounts file in your FloQast folder before you add it in Manage Reconciliations.
To access the Reconciliations features, select the "Reconciliation Settings" drop-down: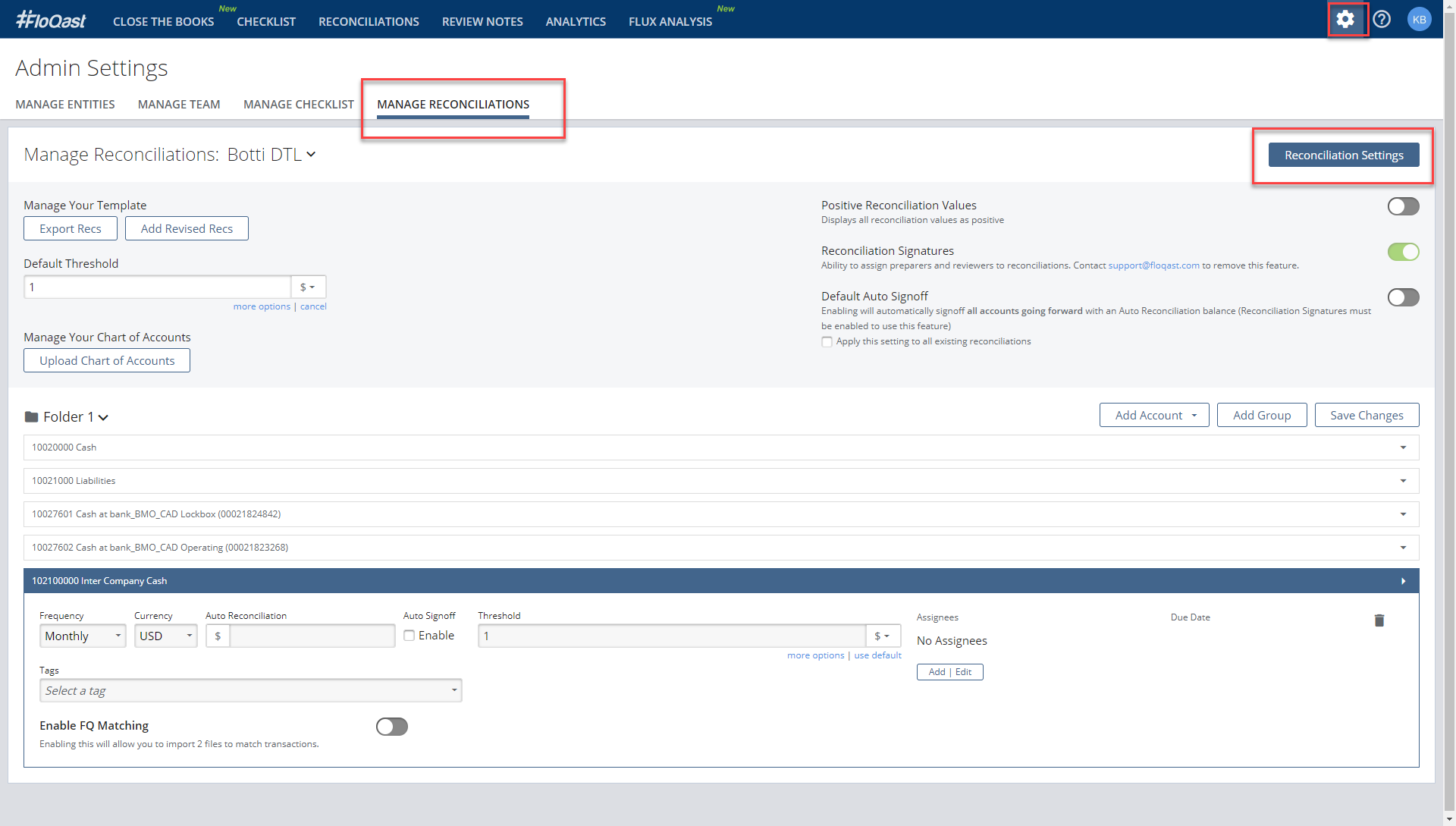 Default Threshold – Change the materiality for differences on reconciliations. Differences below the threshold set will be marked as complete. The Default threshold will be set on all Reconciliations, but you can change this on an account by account basis on the 'Manage Reconciliations' page.
Positive Reconciliation Value – Enabling 'Positive Rec Value' will display all account balances from the General Ledger as positive. This option should be enabled if all account balances in the source documents are listed as positive values.
Reconciliation Signatures – Enabling this will give the ability to add assignments and deadlines directly on a reconciliation. If your organization would like to operate in a strict environment where you require the reconciliation to tie-out , you can enable the 'Strict Tie-out Mode' within the Entity Settings.
Default Auto Signoff - Enabling this will automatically signoff all accounts going forward that have a Fixed Balance (Reconciliation Signatures must be enabled). See below for Fixed Balance.
Users can configure each reconciliation by completing the steps below:
1. Select the applicable folder which houses the Reconciliation:

2. From there, you can customize your Reconciliations for the following options:

Frequency – Set how often the Reconciliation is completed (Monthly, Quarterly or Annual).
Currency – Select the local currency to be displayed for the Reconciliation.
Fixed Balance - This setting will allow for a Reconciliation to be completed without uploading a source document. This feature is beneficial for balance sheet accounts where changes are not expected month over month. A good example is a clearing account or a deposit balance.
Auto Signoff - When enabled, this setting creates a system-generated sign-off for the preparers/reviewers of an account as the balance from the GL is the same as the reconciliation value listed in the Fixed Balance field. No manual sign-off is required.
Threshold – Change the materiality threshold for differences between the GL and Source Document.
Assignee & Deadline – Add assignments (preparer/reviewer) and deadlines for each Reconciliation.
Tags - assign organizational tags to specific reconciliations. This is great for filtering.
Enable FQ Matching - See in-depth articles on FQ Matching:
3. Lastly, you can export your reconciliations, make changes in Excel and re-upload your template via the Add Revised Recs button.

This will download the template in Excel. You will have the option to save the file to your computer. A copy of this file will be automatically saved in your storage provider:
The Reconciliation Template folder will store all versions of your exported reconciliations list. That way if you make a mistake, you can go back at any time to make revisions.
Note: You must keep the same format (all users are tied to an e-mail address) and column headers for this file to work.
In the final column, there is a FloQast Internal ID. Please DO NOT change this. If you add a new account leave this column blank. Once you make your changes in Excel, you can then re-upload.
Once uploaded, please review the changes. You will then need to 'Save Changes' and apply the template for the changes to go into effect.
Note: As a control feature in FQ we do not remove sign-offs or apply settings changes if the Reconciliation account has been signed off on. In order for a setting change to be applied to a signed off on the account , then sign off will need to be removed, then the setting change reapplied and the reconciliation will need to be refreshed.