Microsoft Teams Integration (Quick Start Guide)
How to find, download, and install the FloQast app in Microsoft Teams
INSTALLING THE FLOQAST APP
Navigate to the floqast.app website and log into your FloQast account

Next, open your Microsoft Teams app (desktop or web app)

Two Methods (Can choose either method below)

Method 1: Click the Apps icon (bottom of left pane) in Teams and type "FloQast" in the Search Bar

Click the FloQast icon, and then Click the "Add" Button

After successful Installation you will receive a Welcome Message from the FloQast Bot

Click the "Connect Your FloQast Account" button

This will open link to the Floqast.app home page. If you get the login screen, then please enter your FloQast credentials to log in.

Once you are successfully logged into FloQast, you should receive a message in Teams notifying you of a successful connection!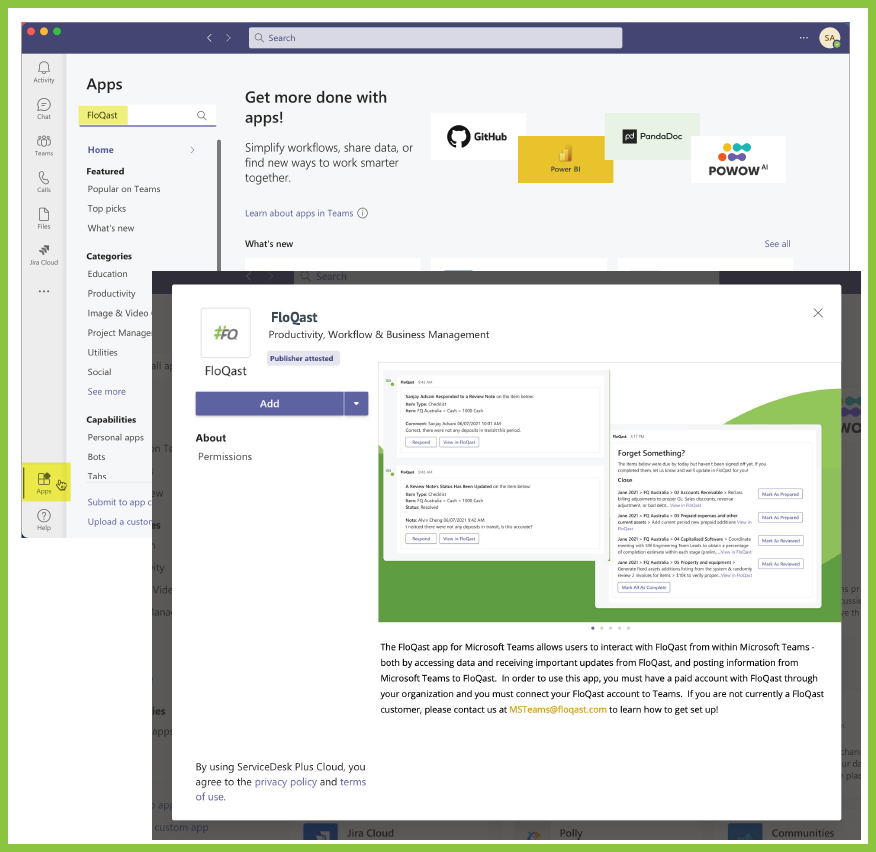 INSTALLATION ISSUES
I Don't See the "Apps Icon" in Microsoft Teams?
If the Apps icon is not visible, it's likely because your organization's IT administrator has it hidden.
What To Do: Reach out to your IT Admin
Your IT administrator can enable this access for your organization. Another option they may pursue is remote installing the FloQast app for you.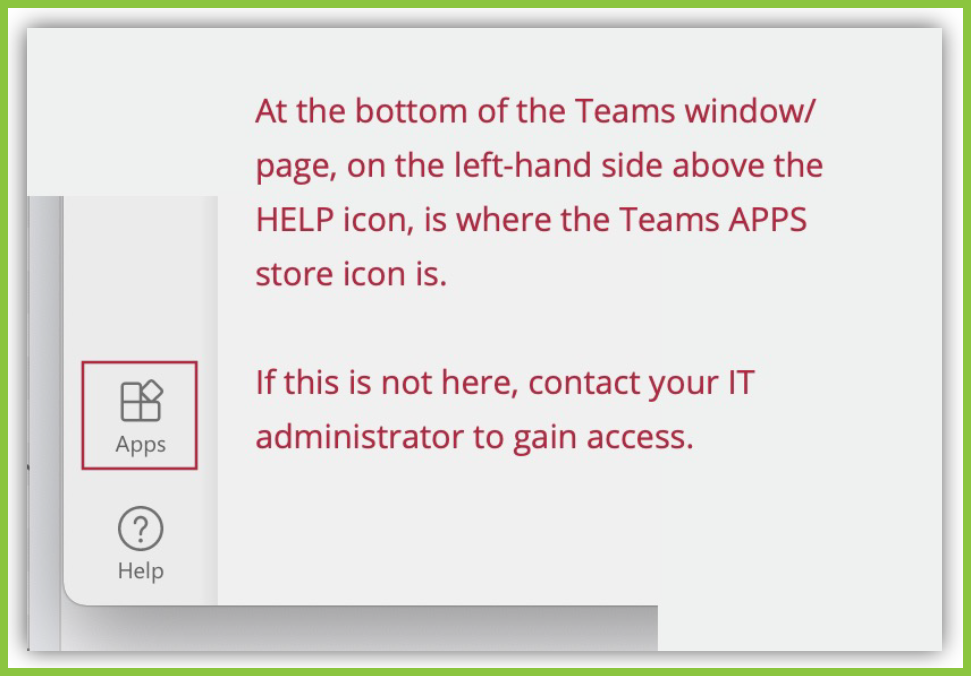 INSTALLATION ISSUES
I Searched for the FloQast app in the App Store but I Can't Find It?
If you run a search and get zero search results for the FloQast app, then follow these steps:
Completely sign out of your Teams account

Quit/shut down the Teams app.

Sign into Teams again

Click on the Apps icon and search for "FloQast" in the
search bar
The FloQast app should be listed as the only search result. If it STILL does not come up in the search, it's likely that the app may be blocked by your IT Administrator. Please reach out to your IT Admin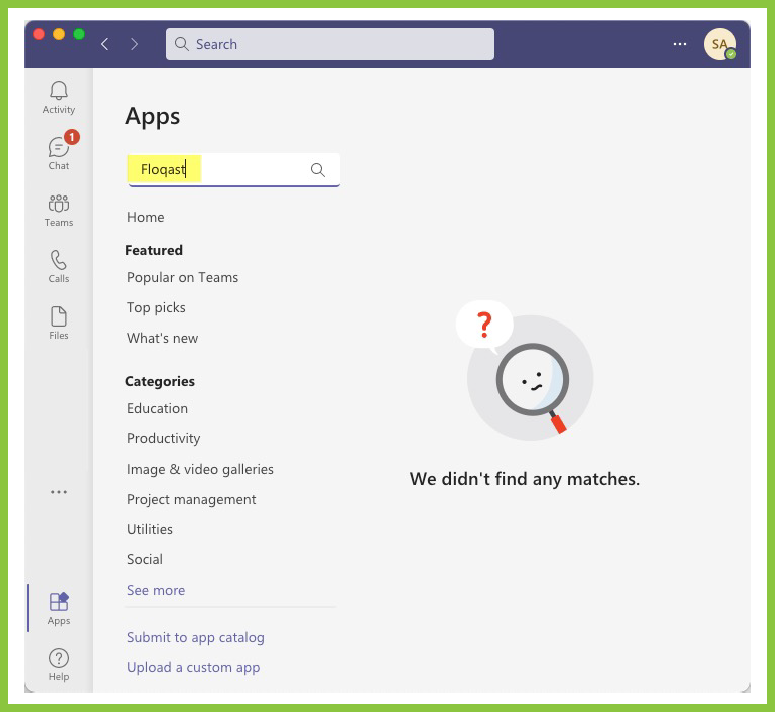 CONNECTING TO FLOQAST
I've Installed the App in MS Teams. How Do I Connect It to FloQast?
Follow these steps in MS Teams, in the FloQast thread:
Click on the CONNECT YOUR FLOQAST ACCOUNT button (this button is automatically displayed upon installing the FloQast app)
This will send you to the Floqast.app web login page.
Enter your credentials to log into FloQast.
Once you're successfully logged in, Teams will detect this login and establish the connection immediately (and send you a confirmation message)
If your company uses Single Sign-On authentication, then when directed to the Floqast.app login page, simply use your SSO login process as normal - the Teams app is "listening" for a successful login, regardless of whether you do this manually or via SSO.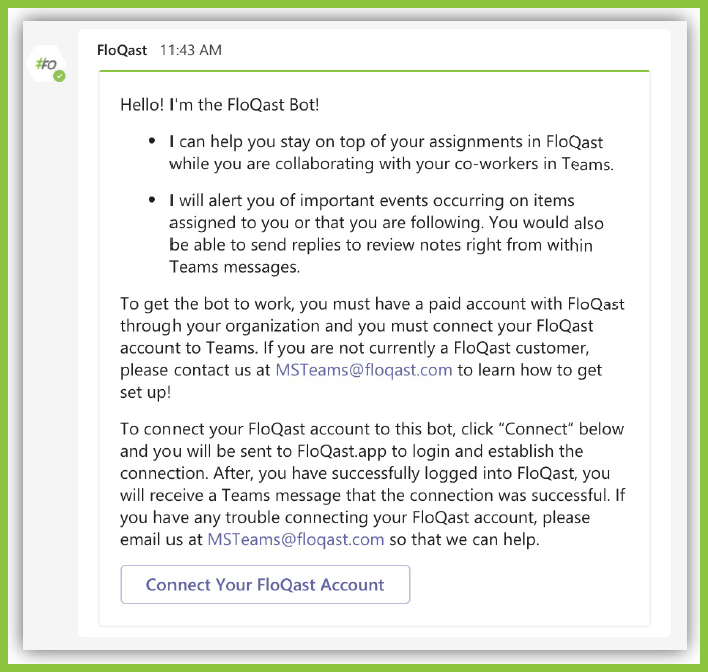 CONNECTION CONFIRMATION
How Do I Know If I'm Connected?
Upon successfully connecting to a valid Floqast user account, you should receive a confirmation message from the FloQast Bot in Microsoft Teams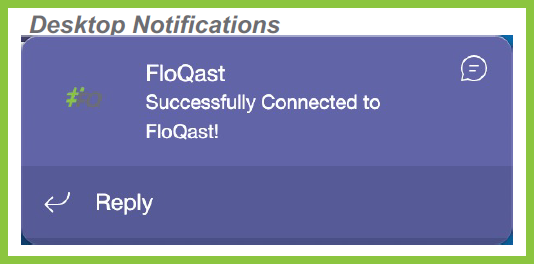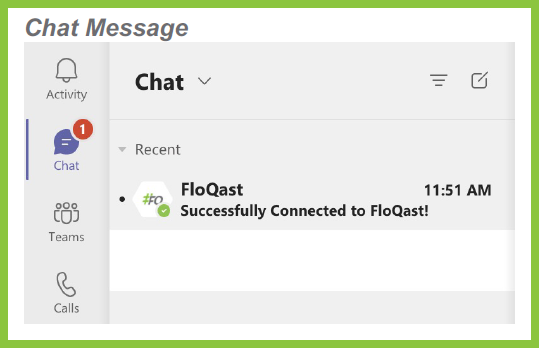 MANAGING NOTIFICATIONS SETTINGS
How Do I Select Which Notifications I Want to Receive?
Once the Teams app is connected to your FloQast account, the option to manually configure MS Teams Notifications becomes available in your Notifications Settings located on your Profile Settings page.
As a reminder, you can get to this page by clicking on your avatar at the top-right corner of any page in FloQast. Or you can just click here https://www.floqast.app/settings/user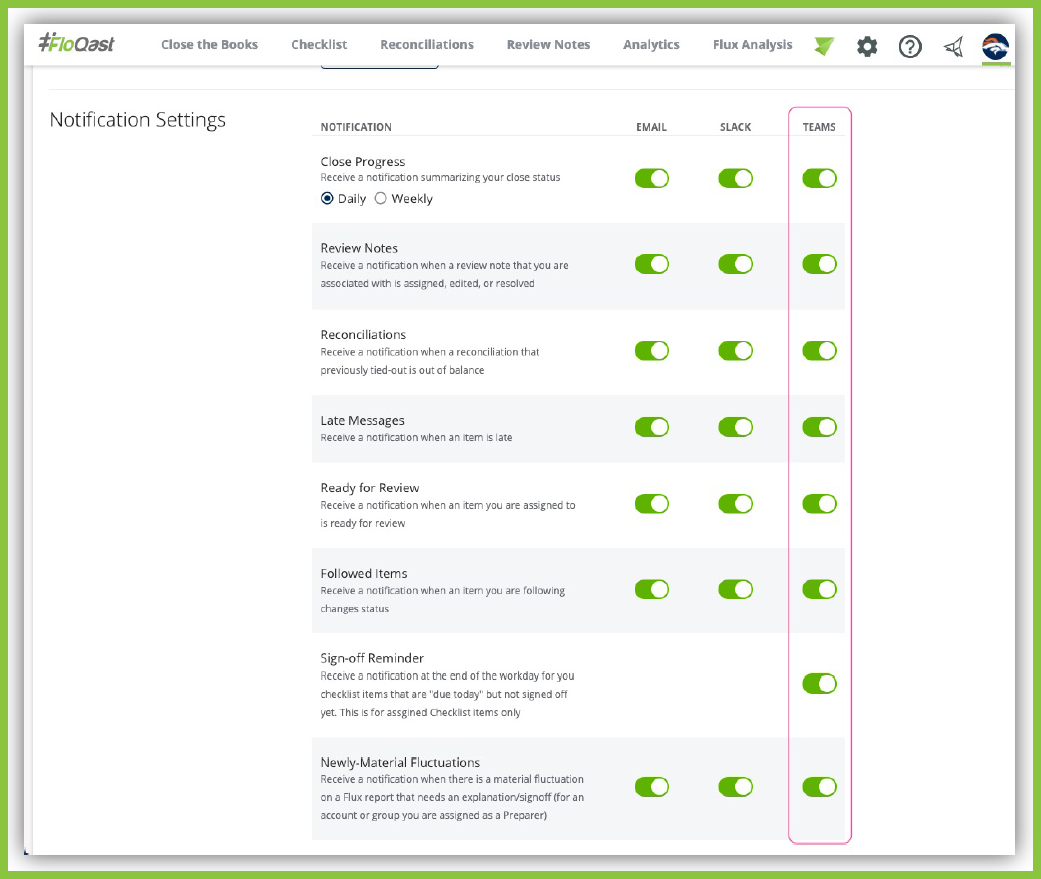 PRODUCT SUPPORT
Two Ways To Get Help:
Installation or Connection issues? Email us! MSTeams@floqast.com

Need to explore the app's functionality? Inside MS Teams, in the FloQast app's message thread or channel, type "help" into the chat bar.

MS TEAMS NOTIFICATIONS
Below are the notifications currently available for Microsoft Teams (as of August 2021)
Core App Messages
Daily/Weekly Close Progress
Review Notes
Recs Out of Balance
Late Items
Item Ready For Review
Followed Items
Signoff Reminder
Flux Analysis Messages
Newly-Material Fluctuations
Material Flux Amount Changes
Flux Item is Ready For Review
Flux Report is Ready For Review
Flux Items Due Soon (this week)
Late Flux Items
TEAMS "COMMANDS"
The FloQast Bot understands three simple commands that will display your assigned FloQast items that are either due today, due tomorrow, or even past due for any workflow across the last, current, and next periods