FloQast offers a Weekly frequency for Checklist items. This frequency works a little differently than other Checklist frequencies in FloQast, so we've put together this article to give a brief overview of it.
The first important thing to be aware of with the Weekly Checklist frequency is that due dates will always populate in the current month, regardless of what calendar type an entity is on. This means a Weekly Checklist item in the June 2021 close will have due dates populating every week in June, even though all other close tasks will generally have due dates in July. We found that weekly tasks are generally used to help prepare teams for month-end close so there are fewer things to worry about by month-end.
A couple of examples are:

Using FloQast AutoRec Matching weekly: If you use AutoRec every week in June, you will be ready to close out your AutoRec Accounts that much faster come July when you are closing June.

Processing invoices on a weekly basis for either AR or AP teams.
Using Weekly Checklist Frequency in FloQast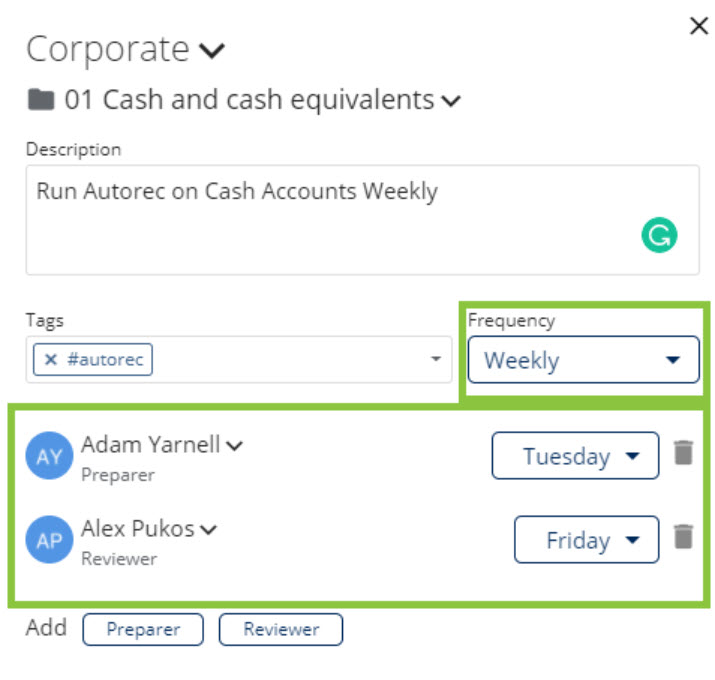 Setting up an item with a Weekly Checklist frequency is very simple. When editing or adding a Checklist item, select Weekly in the frequency option. You will then be prompted to select a day of the week in the due date section for any Preparer and Reviewer. In the above example, the Preparer's deadline will be every Tuesday, and the Reviewer's will be every Friday.
Checklist Items will be created based on the number of weeks in the given period and due dates will be associated with the day of the week selected. If a week falls in more than one month, then the Checklist Item will be created in the period in which the earliest Preparer due date falls. Additionally, if any due date falls on a holiday, then FloQast will adjust it to the day before.
If you are editing an existing item and select This period only before saving your changes, it will only save the changes for the given week, whereas if you select This period and going forward, the change will apply to this week and all following and future weeks.
Please note that if your entity settings are set to Calendar, all days of the week will be available in the due date selection, while if it is set to Business, only weekdays will be available.
Using Weekly Checklist on the Checklist Template

Using the Weekly Checklist frequency via the template upload is nearly the same as with any other frequency option. Please type "Weekly" in the Frequency column C, and instead of a number for the Preparer and Reviewer deadline, put a letter representing the day of the week as follows:

U = Sunday