Note: If you prefer to watch a video on this topic, please visit our FloQademy FAQ course!
FloQast Admins and Managers are able to add a new accounting process folder in the Folders tab of FloQast.
To add a new folder, simply right-click on the respective month in FloQast, then click Add Folder. You will be prompted to name the folder, and it will be placed in alphabetical order within your existing folders.
The new folder will automatically be created in your Cloud Storage for you. There is no need to create the folder in Cloud Storage yourself!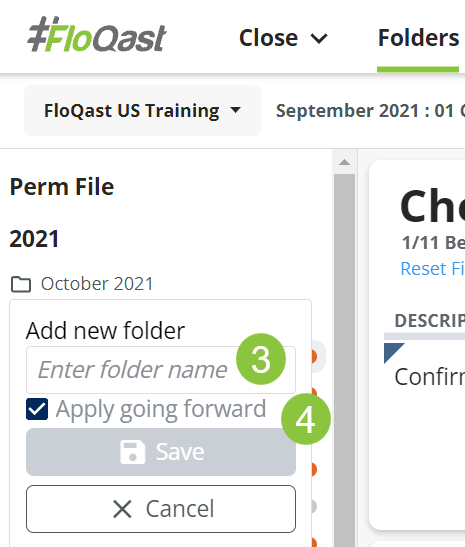 By default, your folder will get created in the month you have selected AND all future months. For example, if it is the month of May and you add a folder to the March period, the folder will get created in March, April, and May. Once it exists in the current calendar month, it will automatically roll forward to future months as part of the normal folder replication process on the first of each month.
You may optionally deselect the "Apply going forward" button if you only wish to make a one-off folder addition to a single month.