When you open AutoRec Amortization for the first time for a specific account, you will be taken to the Amortization Playground. This will allow you to test out the features of AutoRec Amortization without having to fully set up an account. Whenever you are ready to set up your account, just click the Get Started button and you will be taken to the Amortization Setup Wizard. This will walk you through the process of setting up AutoRec Amortization step-by-step.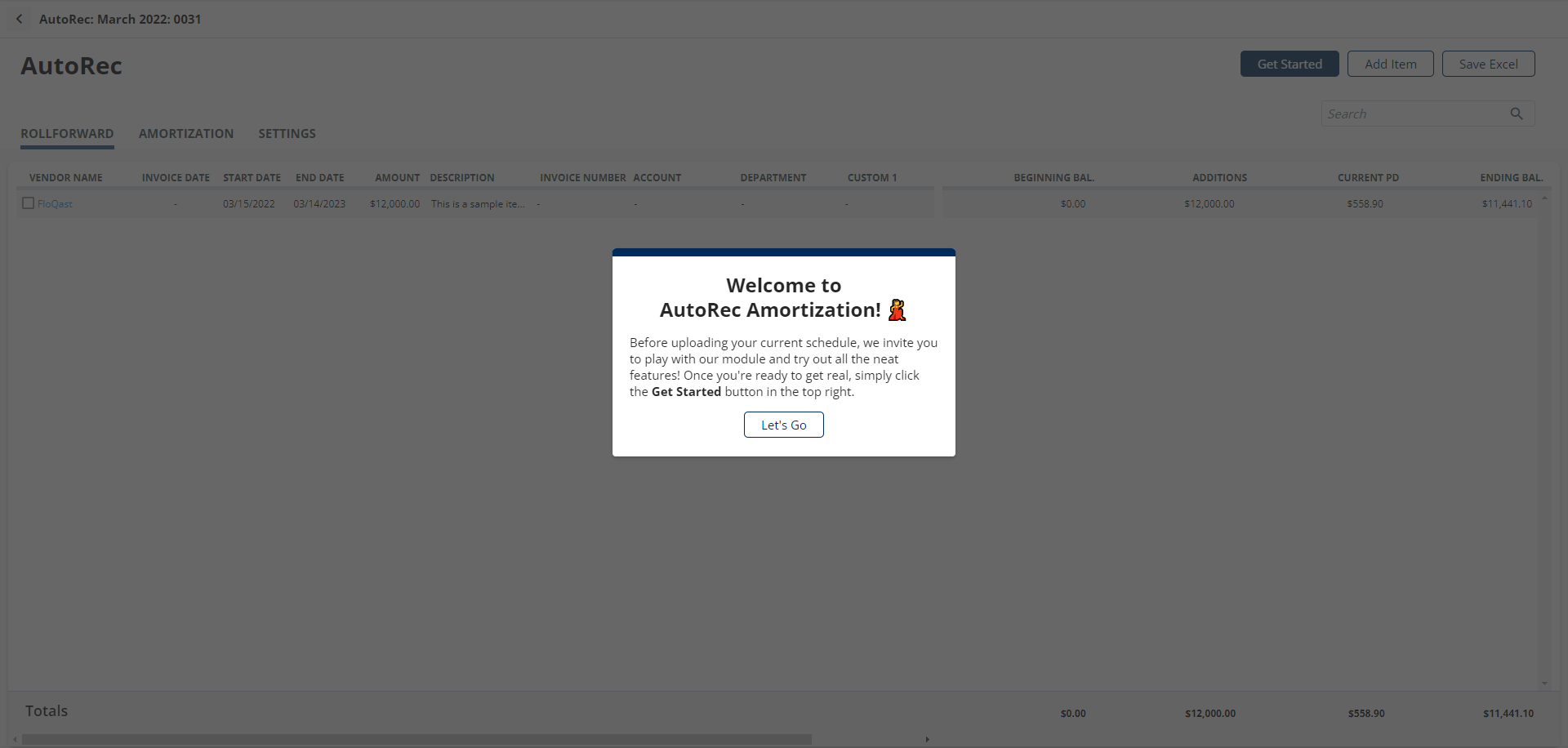 Please note that any items added to the Amortization Playground will be deleted after leaving the playground or pressing the Get Started button.
Once you are in the Setup Wizard, the first question you will be asked is how you would like your Amortization to be calculated. There are three different options available:
Pro-rated: This is FloQast's recommended option. Most of your periods will be calculated using Straight Line, but if your start and end dates are midway through a period, daily amortization will be used to calculate those specific periods.
Straight Line: For Straight Line amortization, amounts will be divided by the number of periods your date range covers, and applied to each period. If the start date for an item is after the Cut-Off Day you set, amortization will begin the following period.
Daily: For Daily amortization, amounts will be divided by the total number of days within your date range, and the amortization amounts will then be based on the number of days in each period.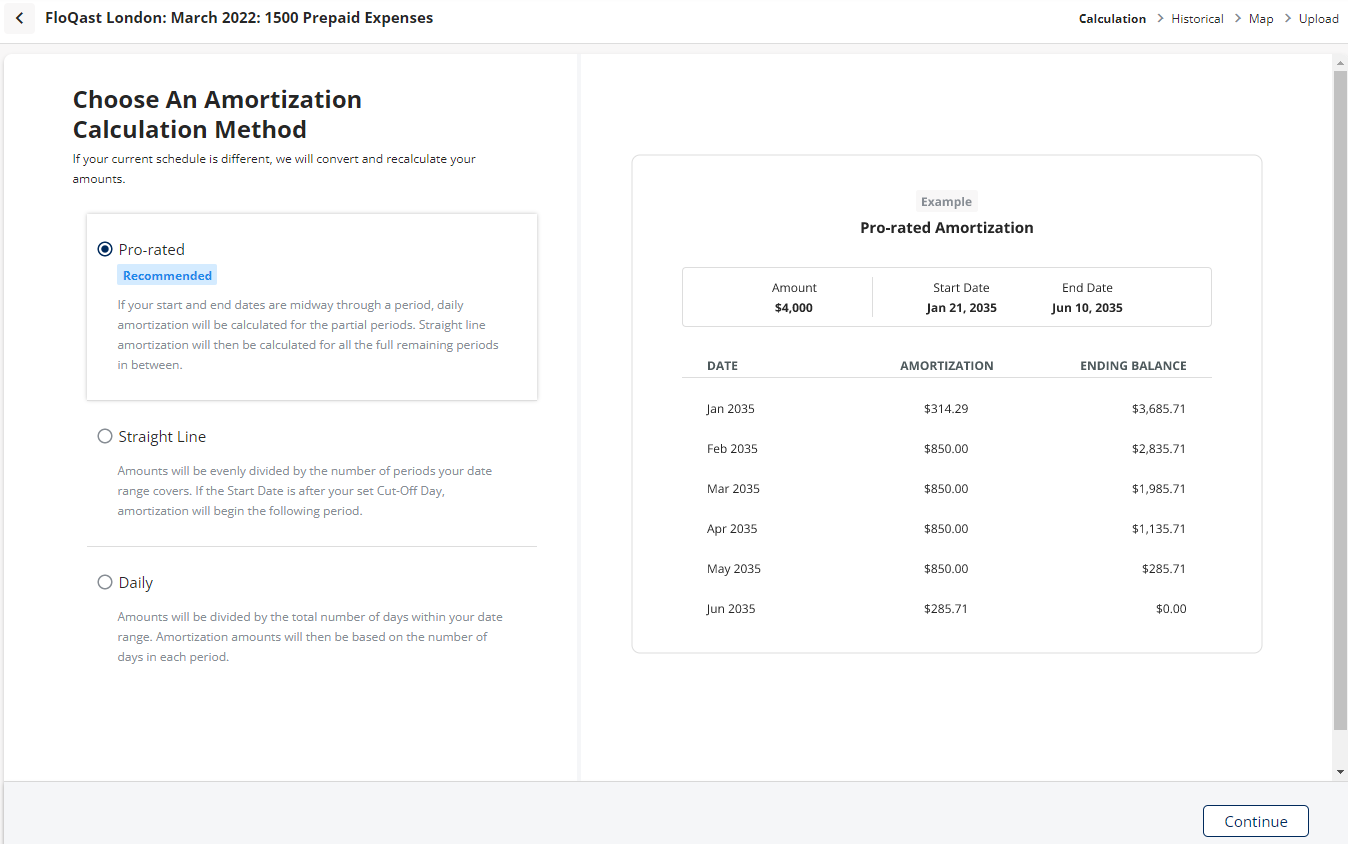 Next, you will be prompted to choose how you would like to import your existing amortization schedule. Once again, you will be presented with three options:
Summarized History
Detailed History
Start from scratch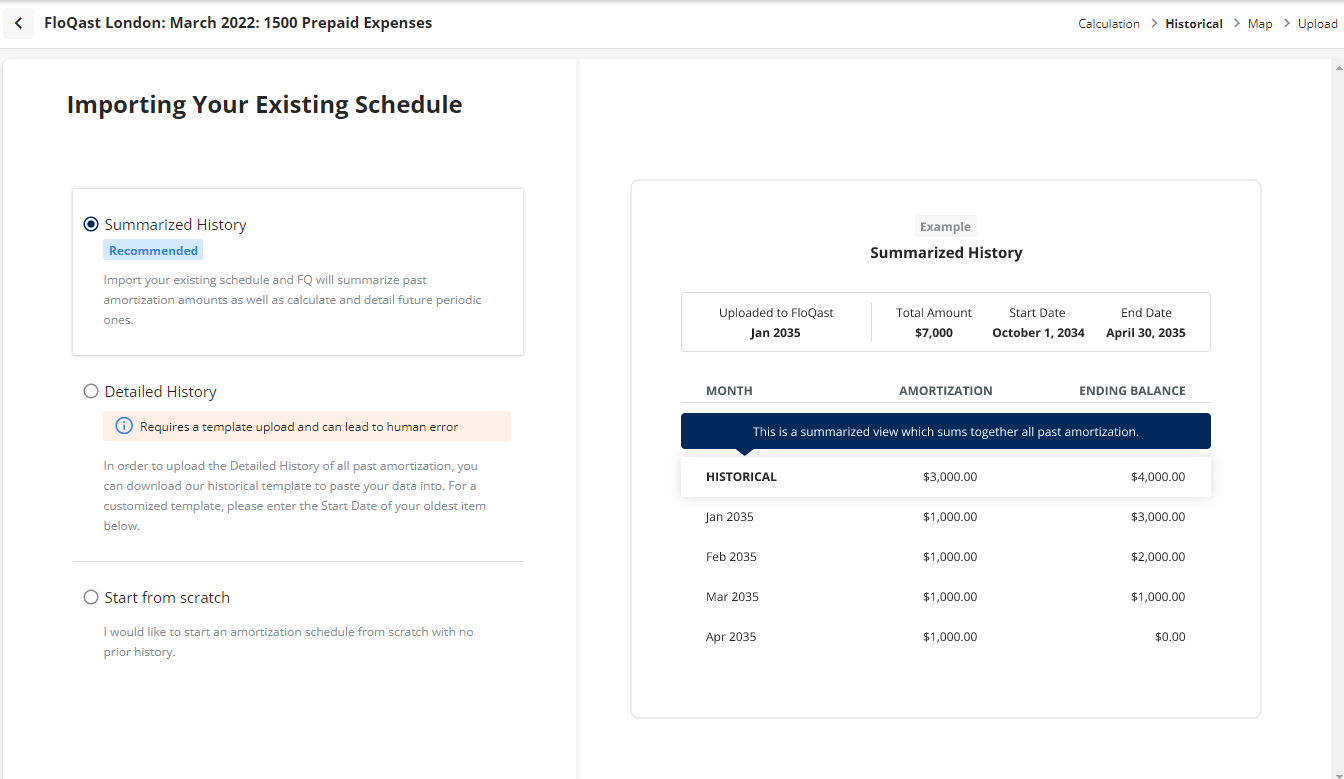 Summarized History
If you choose Summarized History, you will be able to import your existing Amortization Schedule, and FloQast will summarize the past amounts and then calculate and detail future periodic amounts. If you choose this option, you will then be taken to a page where you can map the required fields to columns in your spreadsheet and then upload your schedule. After that, your amortization is ready to go!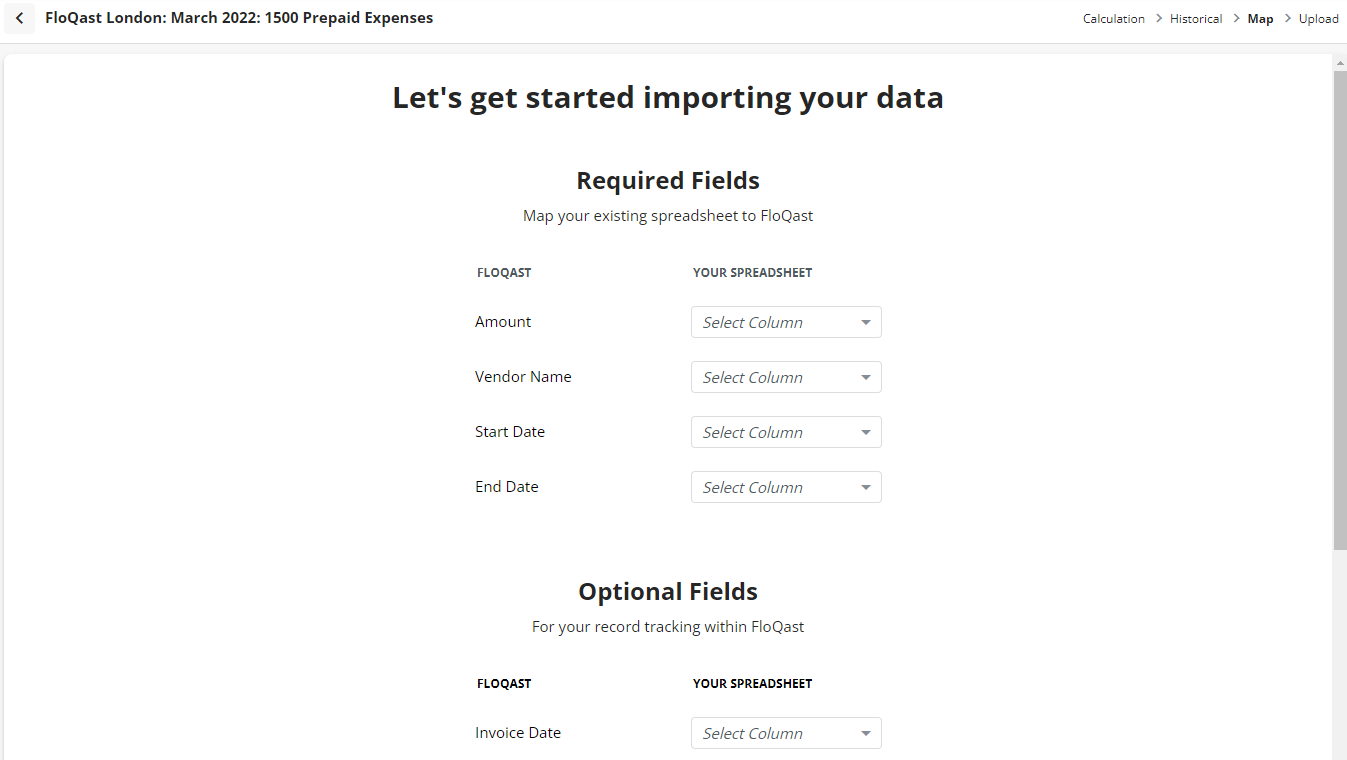 Detailed History
If you select Detailed History, you will be able to download a convenient Excel template to use for uploading your historical amortization data.
In order to produce a customized template for your needs, you must first type in the month and year of how far back you would like your details to go. FloQast will then produce a template going back to that period.
For example: If it is currently the middle of the year and you would only like your amortization details to go as far back as January, enter the starting date as January of this year. Doing so will produce a template for you with all the necessary columns. All amortization that took place prior to January of this year will be added together and summarized in one column at the beginning of the schedule.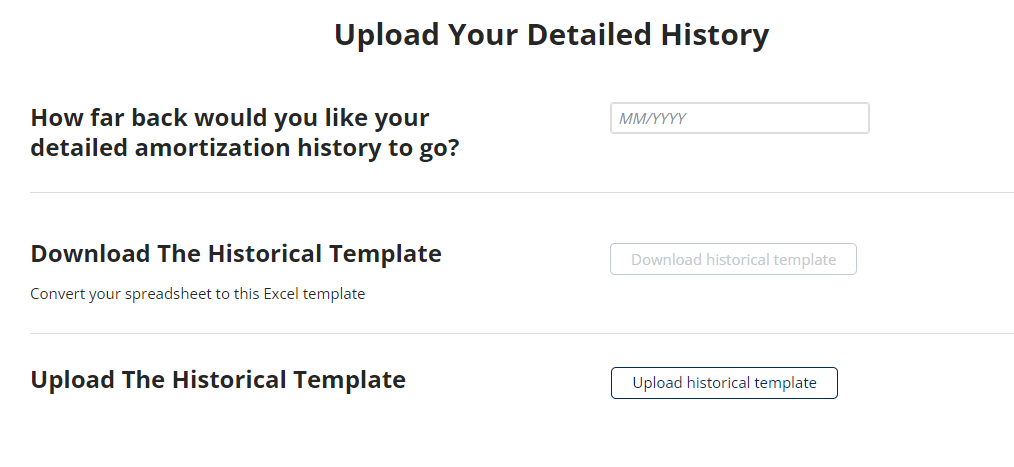 The Excel template you download will include all of the same columns you will see in the amortization module. Many can be left blank if you do not have the information but Start Date, End Date, and Amount are all mandatory.
Note: The Amount column refers to the total amount to be amortized for that item from the start to end dates and not only what is left.
The general information in columns A-I can be copied and pasted regularly from your source file; however, for the amortized amounts in columns J and onward, only paste as values to ensure formulas don't cause anything to change in translation. It is okay if some cells explicitly have 0s while others are left blank.
Once your template is filled out, simply save your file and return to the FloQast amortization module in order to upload it from the Setup Wizard. After that, your historical data will be in FloQast.
Start from Scratch
Finally, if you choose Start from scratch, you will simply be taken directly to the Amortization Module and can begin adding your items without any historical data imported.