Under Admin Settings > Entities > Integration Settings, you will find a toggle for Shared General Ledger.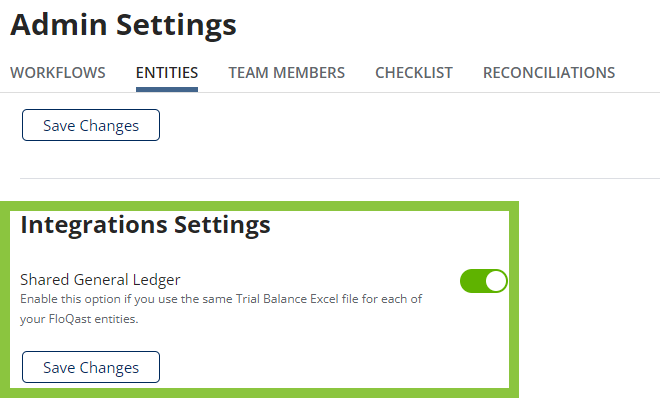 This setting should be toggled ON if:
TB Upload: You use the same Trial Balance file and Chart of Accounts file for all of your FloQast entities.
NetSuite/Intacct: You use the same NetSuite/Intacct instance for all of your entities.
This setting should be toggled OFF if:
TB Upload: You use separate Trial Balance files and Chart of Accounts files for your various FloQast entities (i.e. these entities use different ERPs, or different ledgers within the same ERP so you upload individual TB files, etc.)
CAS: You are a CAS Firm that performs accounting services for a variety of clients on various ERPs (e.g. combination of QBO, QBD, Xero, Intacct Console, etc.)
NetSuite/Intacct: You have multiple instances of NetSuite/Intacct (especially Intacct Console setup) connected to FloQast.
Whether this Shared GL setting is toggled On/Off will impact how you run the Completeness Report in FloQast.
Note: If you use a combination of TB Upload and NetSuite/Intacct (e.g. five NetSuite entities + six SAP entities in FloQast, or one NetSuite entity + two Intacct entities in FloQast), your FloQast instance may be eligible for the Multi-ERP setting. Please contact FloQast Support to determine whether this feature will benefit your Completeness Report options!