Flux Analysis Report Settings has a Dimension Insertion Tool* that has been upgraded to allow much more flexibility with building a Flux Report with a Customized Structure, allowing users to specifically choose which groups in the Flux Report users want dimensions inserted into, along with inserting different dimensions into each group. 
*available for NetSuite & Intacct clients only.
*setting only accessible to Manager & Admin Roles in FloQast.
The Dimension Insertion Tool allows users to customize how Departments/Vendors interact with the grouping structure of the Flux Report. Users can leverage this tool to specify which Departments/Vendors to include on the Flux Report, and which specific groups they should be included in.
NetSuite

customer's dimension

:

Departments

[

per 1st screenshot below

]

Intacct

customer's dimensions

:

Departments

and

Vendors

[

per 1st + 2nd screenshots below

]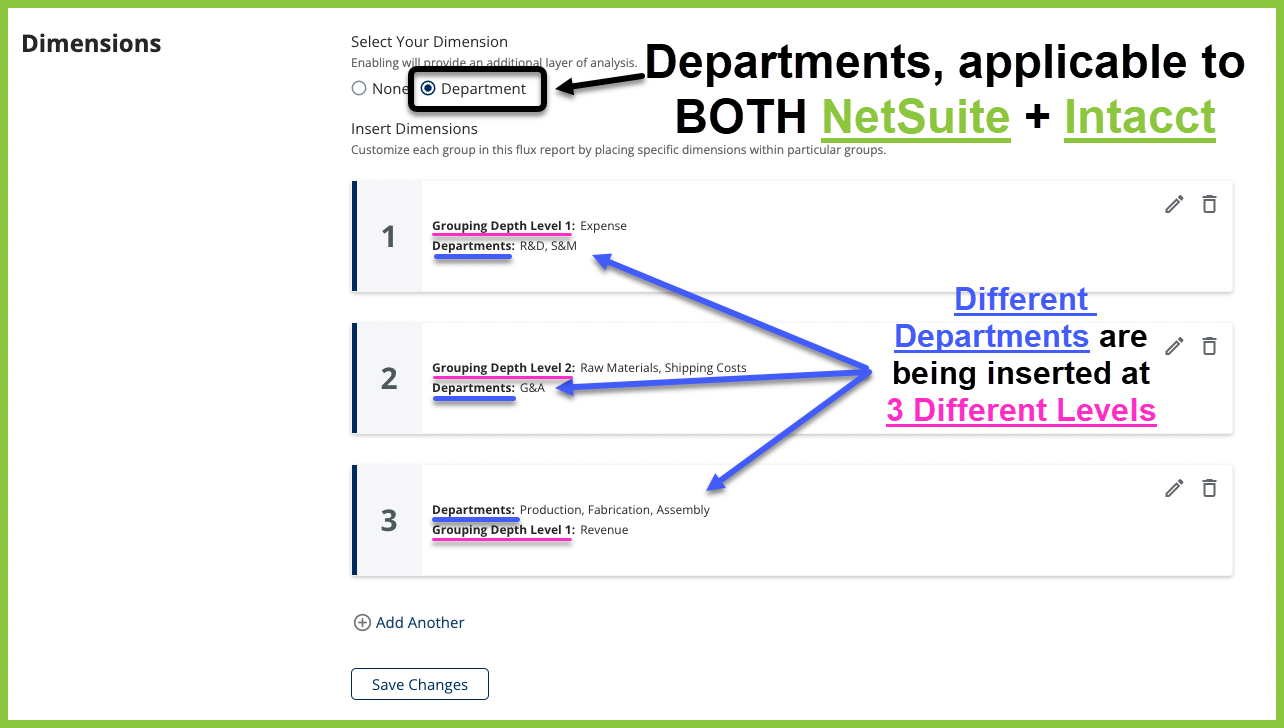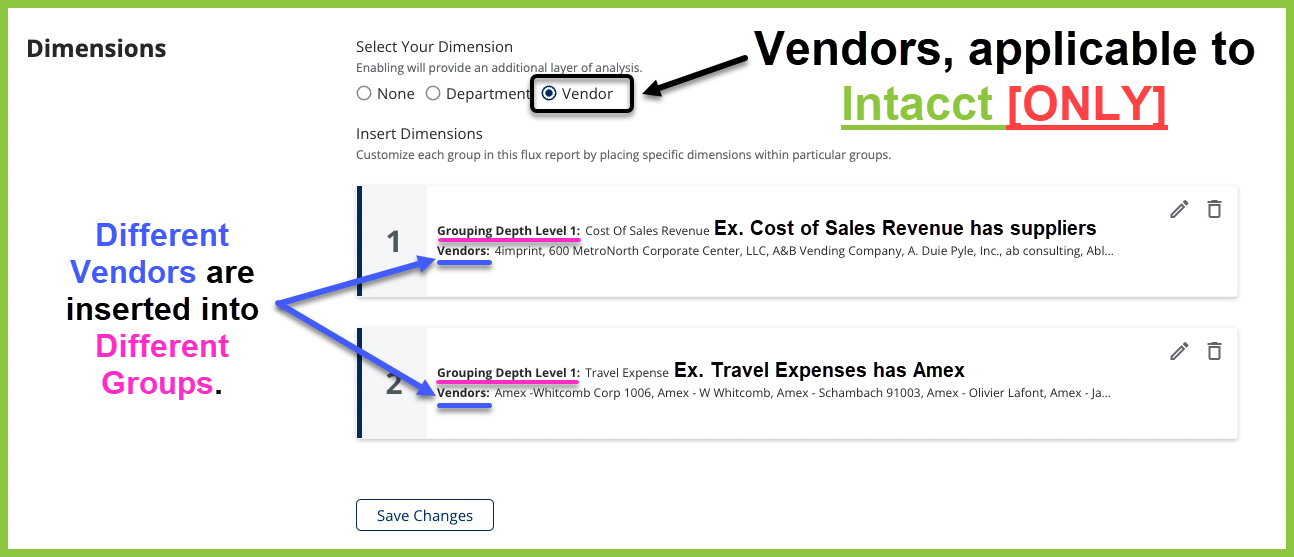 How to access Dimension Insertion Tool in FloQast (per Circle #4 below)


When using the new tool, and selecting a Group to insert departments into, why do the sub-groups become greyed-out/disabled?
Users can only insert a department (or multiple departments) into one depth level of a "lineage".  An example of a lineage or "path" would be the Group and the sub-groups underneath it.  The most common examples we typically see in our customers' I/S Fluxes are below:
Expenses
Operating Expenses
Research & Development
Account No 6250
Account No 6280
Account No 6550
Sales & Marketing
Account No 7001
Account No 7002
Account No 7003
General & Administrative
Account 2405
Account 8500
In this example above, one of the paths is:
EXPENSES → OPERATING EXPENSES → RESEARCH & DEVELOPMENT
If a user decided to insert some departments underneath the "Operating Expenses" group, the user can't then create a second request/rule to also insert some departments underneath "Research & Development" because they already chose a spot to insert in this lineage. 
To prevent this, once a group is selected, FloQast disables the option to insert above or below that specified level.  In the example above, if the user selects "Operating Expenses", then "Expenses, this will result in R&D (Research & Development), S&M (Sales & Marketing), and G&A (General & Administrative) all being greyed-out.
Please note, FloQast Flux does not allow inserting dimensions within dimensions.
**If you are a NetSuite client and you do NOT see the Dimensions section in your Flux Report settings, please ensure that: 1) you have Departments configured in NetSuite, and 2) The FQ Integrations role in NetSuite has been granted permissions to Departments. If you still do not see the section or have any additional questions, feel free to contact support@floqast.com.