ALL WORKFLOWS DASHBOARD
Providing Accounting and Finance Teams with timeliness, accuracy, and accountability of information. This Dashboard empowers Accounting and Finance Teams to collaborate efficiently by centralizing and organizing work across various workflows conveniently in one place.
The FloQast All Workflows Dashboard will be accessible to FloQast Users who have access to entities in multiple workflows within the FloQast application.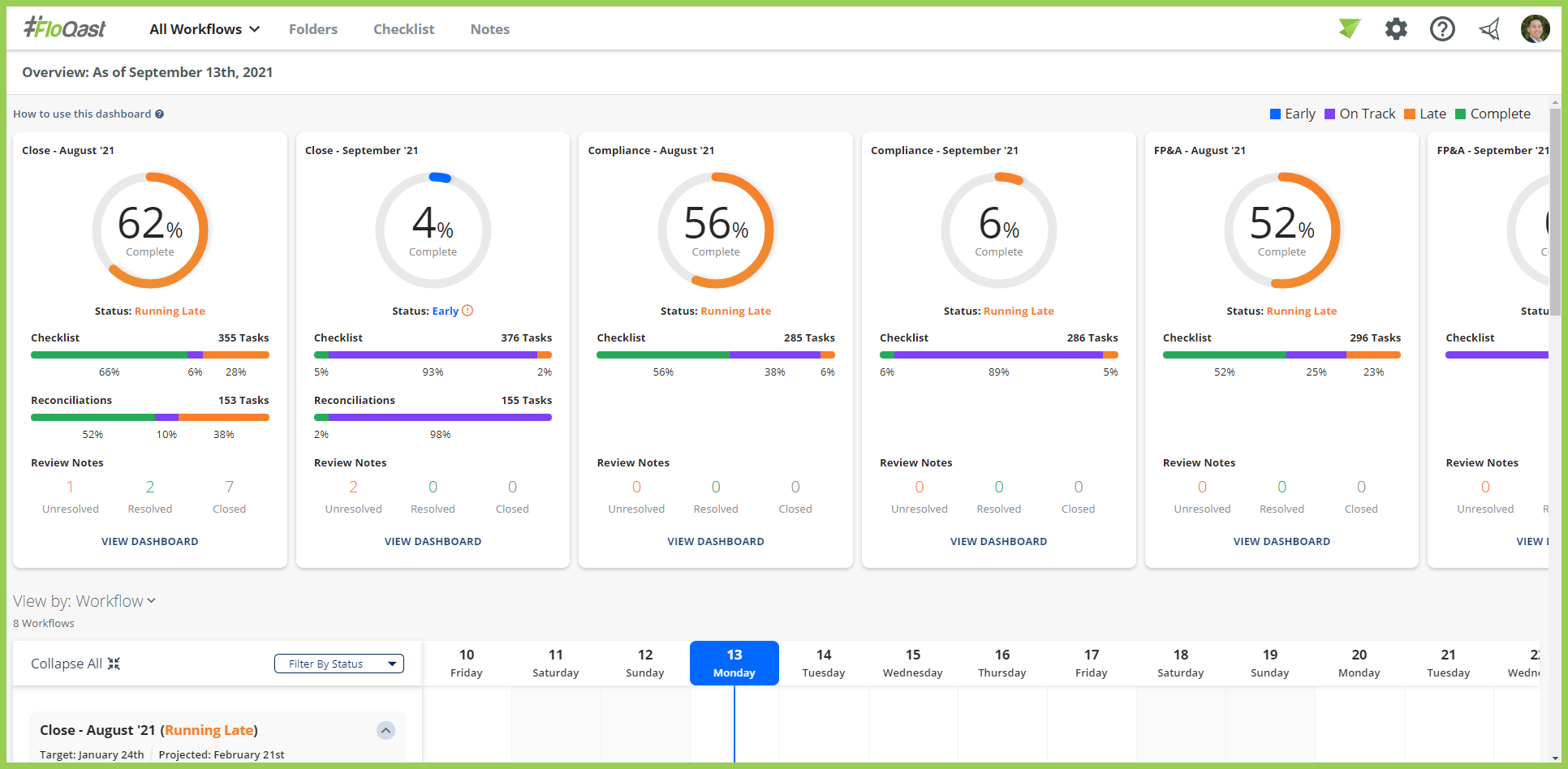 MULTI-PERIOD VISIBILITY
Multi-Period Visibility incorporates 3 periods per workflow:
Last month,
This Month
Next Month

For example, if today's date is September 13, 2021, the Multi-Periods expected to be displayed are:

August 2021 (last calendar month)
September 2021 (current calendar month)
October 2021 (next calendar month)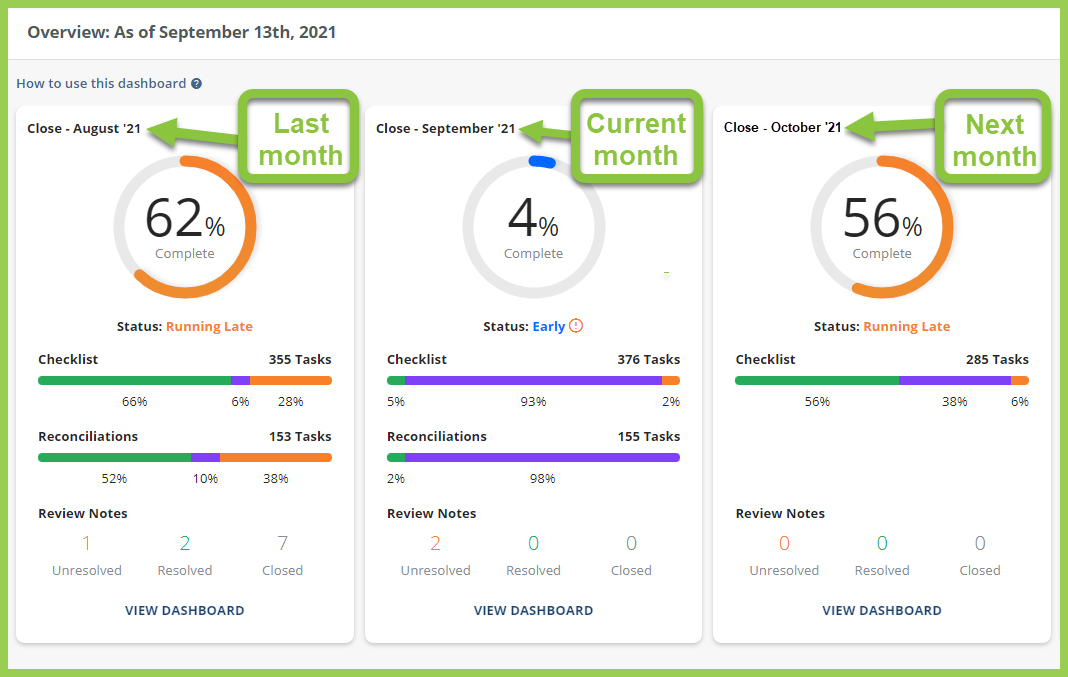 WORKFLOW SUMMARY TILES
A Tile displays for each unique workflow-period combination
Tiles are displayed alphabetically by workflow name, left-to-right
If a specific workflow does not have any data for a given period, then that period will not be displayed (This is the reasoning for why some Users may see only two Close tiles because the future periods have not been created yet)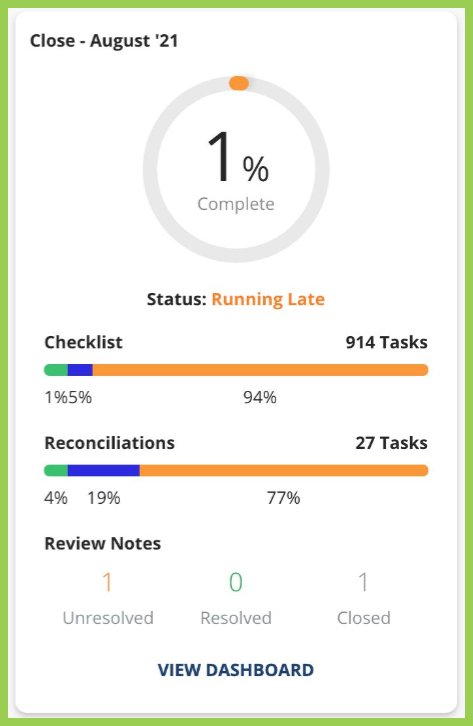 TILE ELEMENTS
Progress Radial: Completion percentage of all the assignments (sign-offs) on all items from all the entities that are in one workflow and for the one period only.
FloQast Status: This not only represents the 'current' status, but also a forecast of whether users will finish all those activities on time, early or late. The FloQast status has been improved to help users forecast whether they will finish on time, even if there are current late items outstanding. FloQast will warn users of outstanding late items, but overall the application will calculate whether users will finish on time.
Status Breakdowns: FloQast displays a summary of all users' tasks in the workflow period, broken out by statuses. The three enumerations of an individual task's status are:

On Track
Late
Complete
Early Statuses are not tracked at the Task Level. The color breakdowns are not to scale, since FloQast's minimum width is fixed to fit "1%". The percentages accurately reflect the status.

Task Totals: Each Taskbar will designate the total quantity of tasks on the right side. Note: Only signoffs with DUE DATES roll up into these quantity totals (whether it's assigned to a team member or not).
Review Notes - Displays the quantity of review notes in each status for a respective workflow and period.
View Dashboard: Links the user to the single workflow dashboard for a respective workflow and period.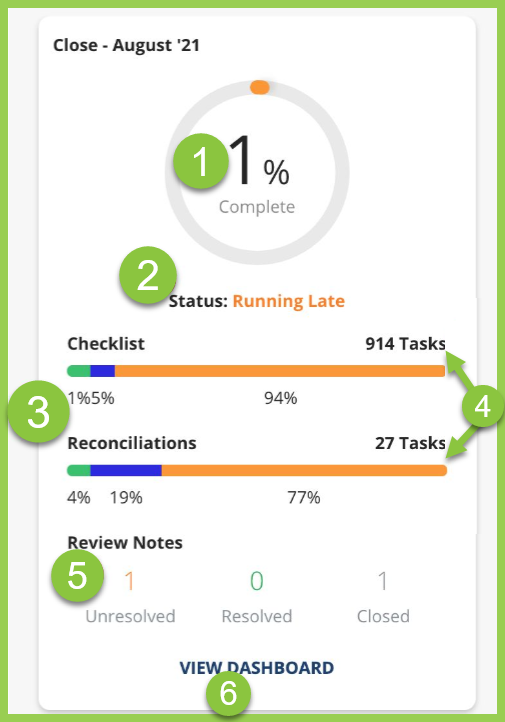 TIMELINE VIEW BY WORKFLOW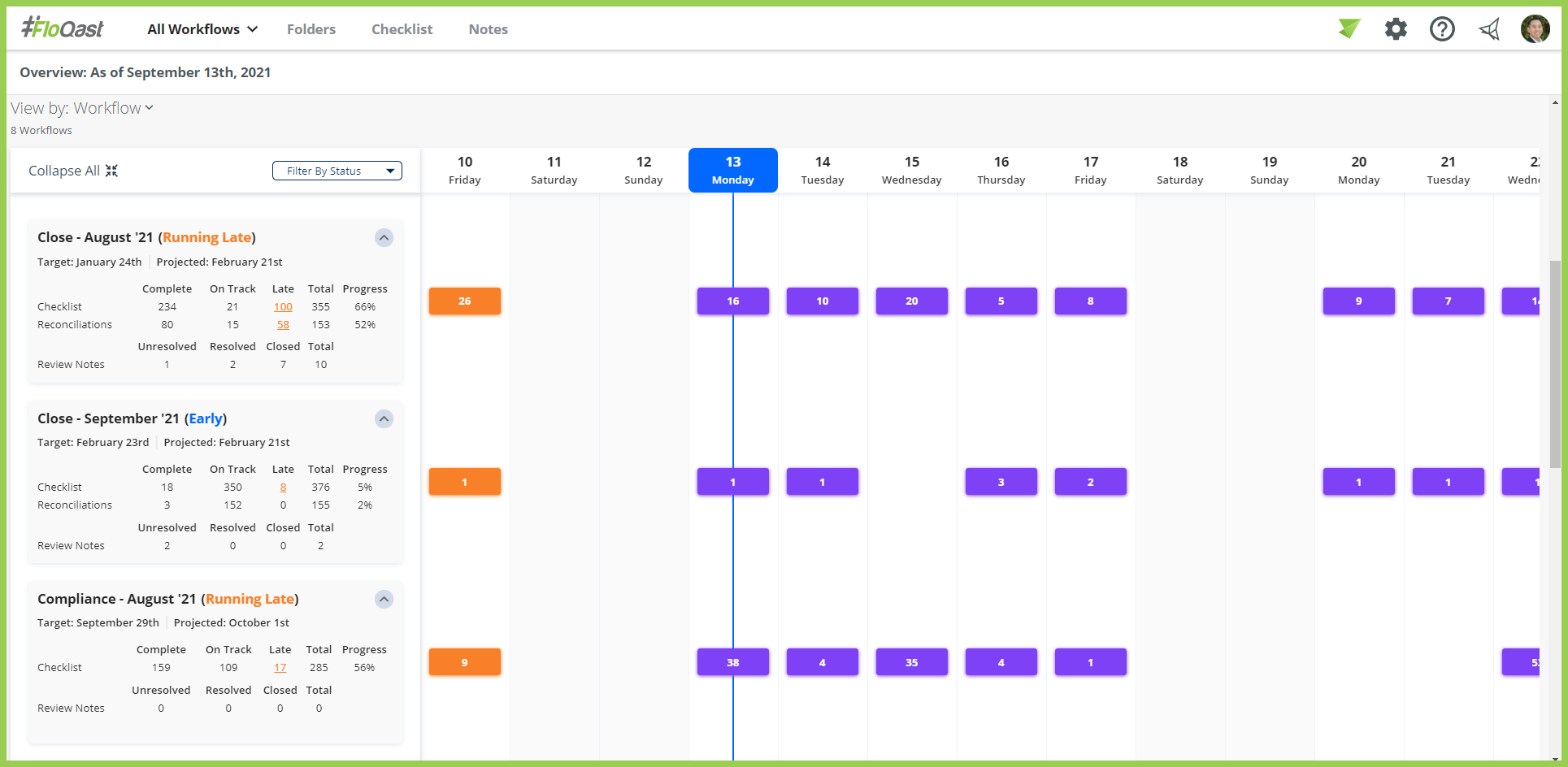 DATA PANEL CARDS (WORKFLOW VIEW)
Each card represents one workflow for a specific period, just like the Workflow Summary Tiles
The cards in the data panel match 1:1 for the tiles in the workflow summary component (located at the top of the page)
Each workflow period has its FloQast Status next to it
The target vs. projected completion dates are listed to give users an idea of when all the tasks in that workflow period are due vs. when FloQast project users will actually finish
Task quantities have all the SIGNOFFS broken down by Item Type (checklist or reconciliation) from the specified workflow and specified period
Complete + On Track + Late = Total
Late Item Quantities are clickable and will port the user to either the checklist or the reconciliations page, pre-filtered for Late items in the respective workflow and period of the card.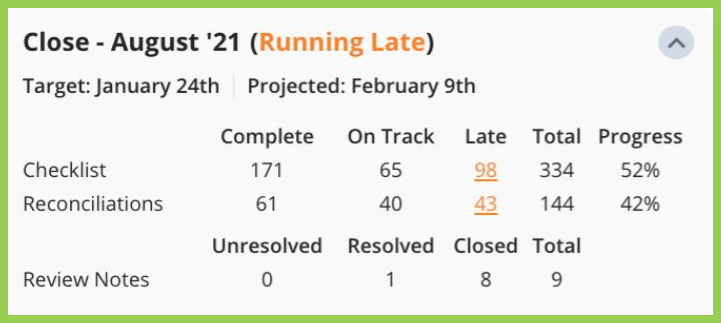 TIMELINE VIEW BY TEAM MEMBER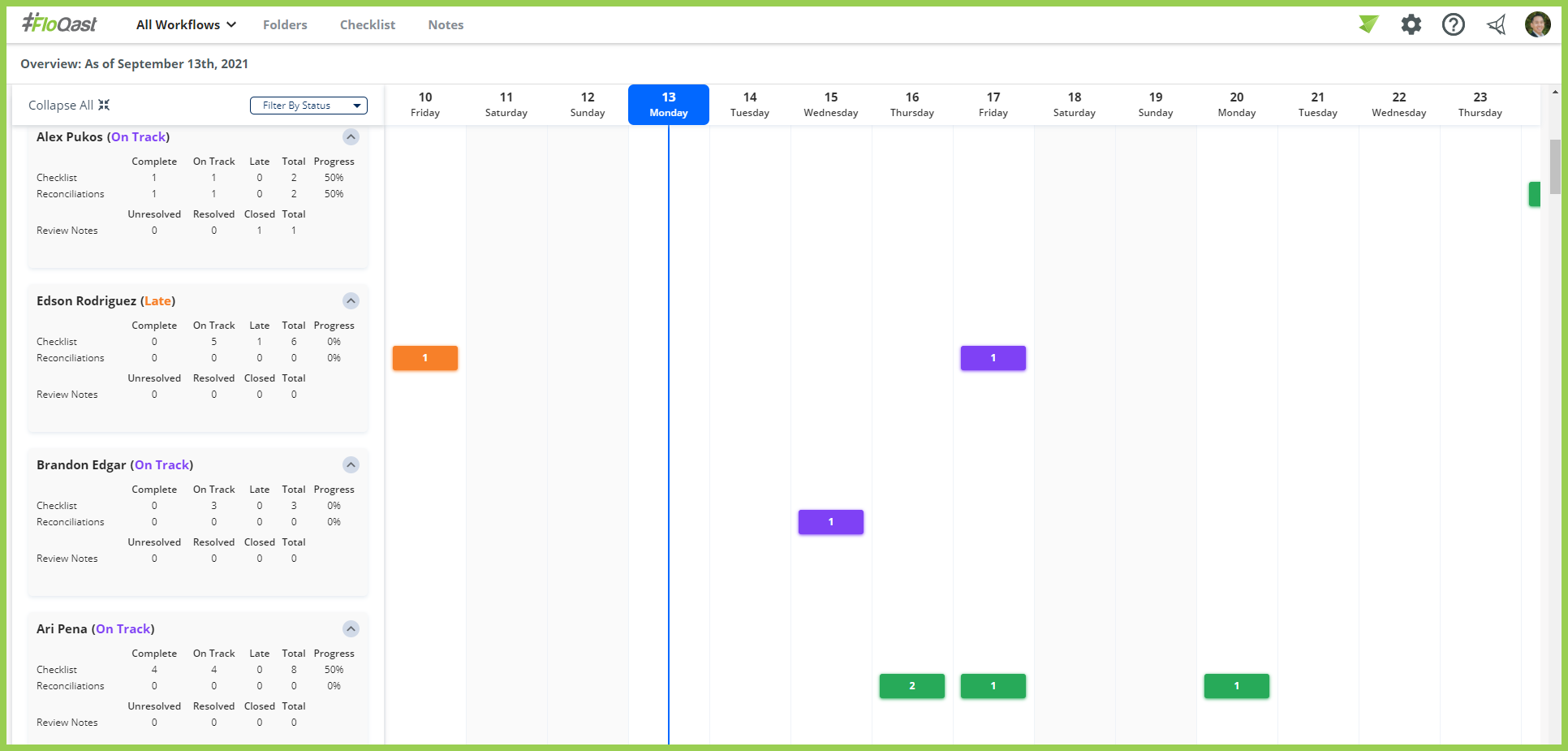 DATA PANEL CARDS (TEAM MEMBERS VIEW)
Each card represents one Team Member's tasks/signoffs from ALL workflows that they have assignments from the three periods (last month, this month, next month)
Status: A Team Member's status value is the initial status that is either On Track, Late, or Complete. A Team Member is tagged as late by virtue of having at least ONE late signoff.
Since Team Members potentially have signoffs from multiple periods represented in their single card, a Target or Projected completion date is not present.
Task quantities are all the SIGNOFFS broken down by Item Type (checklist or reconciliation) from the specified workflow and specified period
Complete + On Track + Late = Total
Late Item Quantities are NOT clickable for Team Members because those Late quantities could be signoffs from different periods (and there is no multi-period Checklist or Reconciliations page to port the user to).

DAILY QUANTITIES (WORKFLOWS & MEMBERS)
SIGNOFFS are summed up and plotted out on the timeline per workflow period (or team member) by the day the signoffs are due.
The color of the daily quantity square indicates the overall status each day:

Orange indicates at least one late signoff of all the items due that day
Purple indicates no late signoffs, but there is at least one incomplete signoff
Green indicates all signoffs due that day are Complete
There is no "Early" status when it comes to daily quantities

Note: Daily Quantity Totals respect the user's entity permissions, resulting in the possibility that one user may see different numbers than another user based on their entity access in FloQast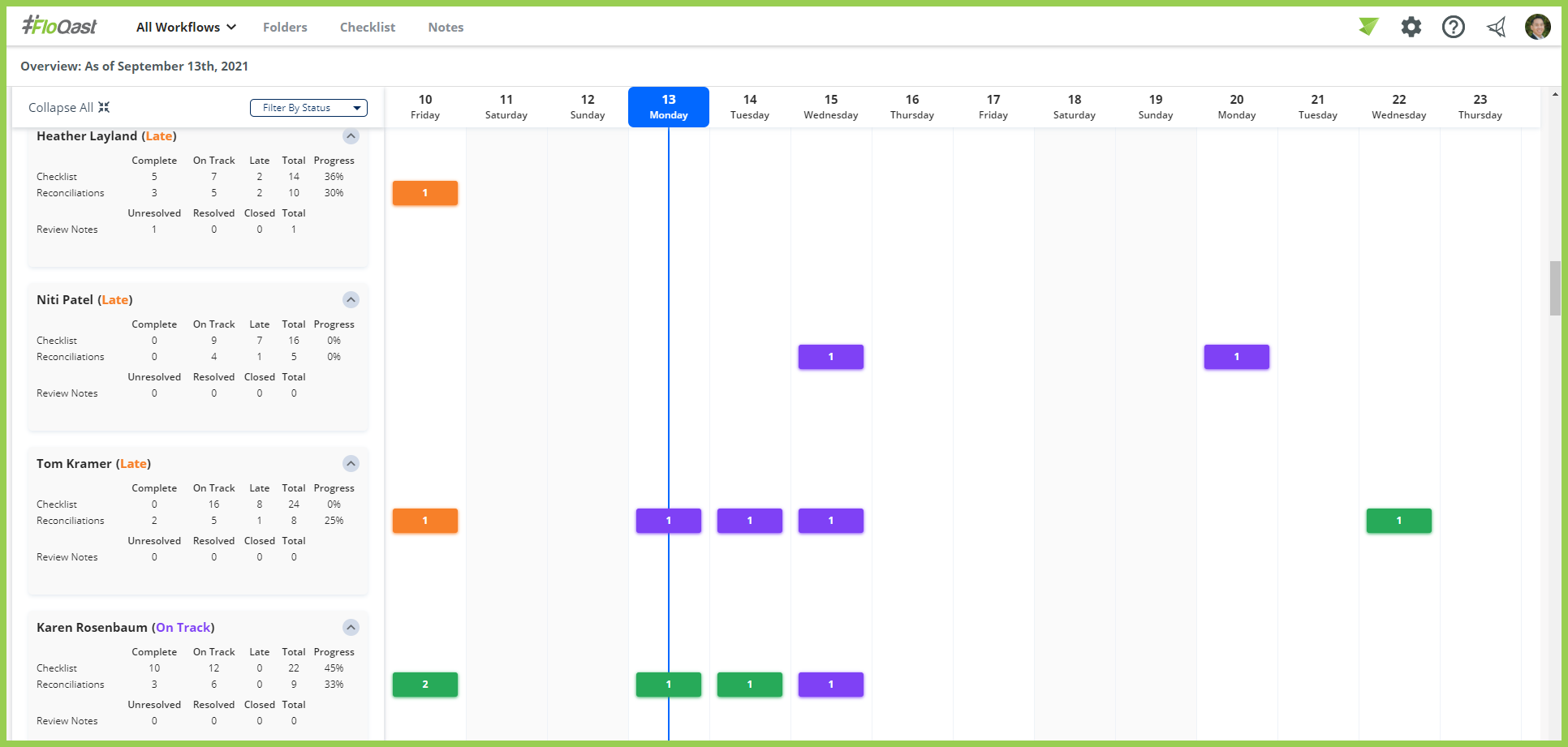 TEAM MEMBER DAILY QUANTITY MODAL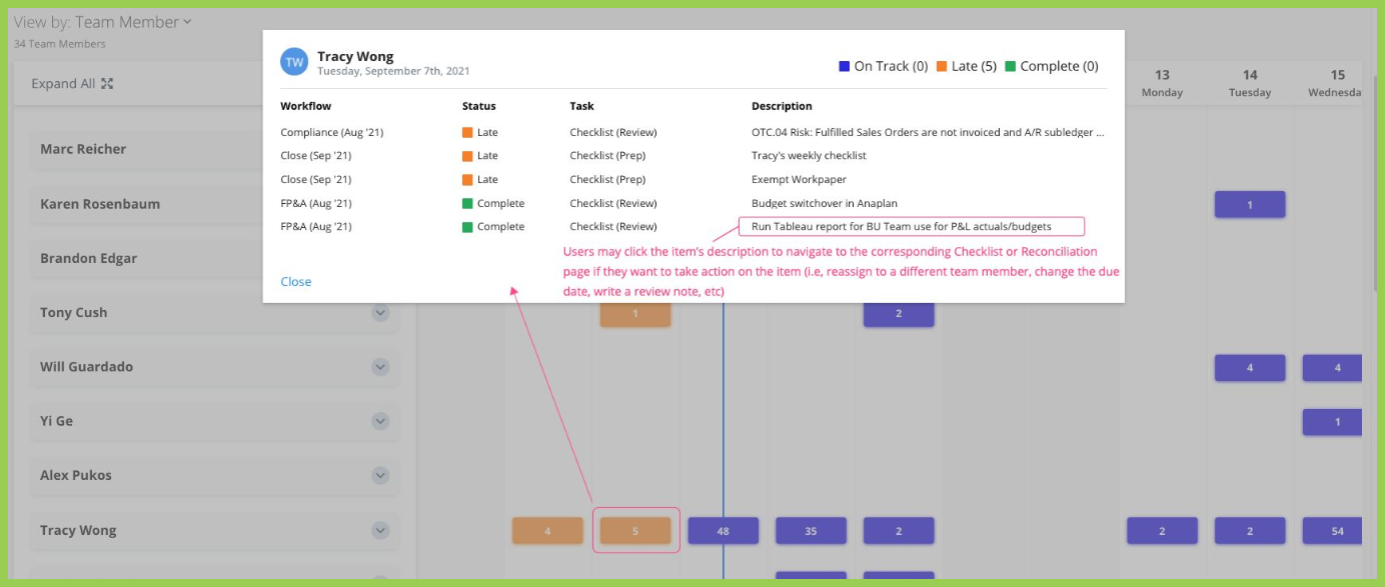 WORKFLOW DAILY QUANTITY MODAL