FloQast Flux has always allowed teams to automate and accelerate the flux analysis process so they can focus on the actual analysis, not data entry. Today, the Flux Analysis module becomes even more collaborative with the introduction of Flux Review Notes!
Flux Review Notes are ideal for communicating with your team members about specific explanations needed (to be provided, or to be revised/explained better) for material variances on a Flux Report.
How does it work?
You will find that Flux Review Notes are very similar to Review Notes across the FloQast core application. Flux Review Notes are available to all user types. Anyone with access to a particular Flux Report may leave a Flux Review Note by clicking the "pencil" icon in the "Tools" column (#2 in screenshot below). Once one or more review notes have been added, they will be represented by the "dialogue balloon" with the number of notes left (#1 in screenshot).

A Flux Review Note can be left on an individual account (#1 in screenshot below) or on a group-level summary (#2 in screenshot).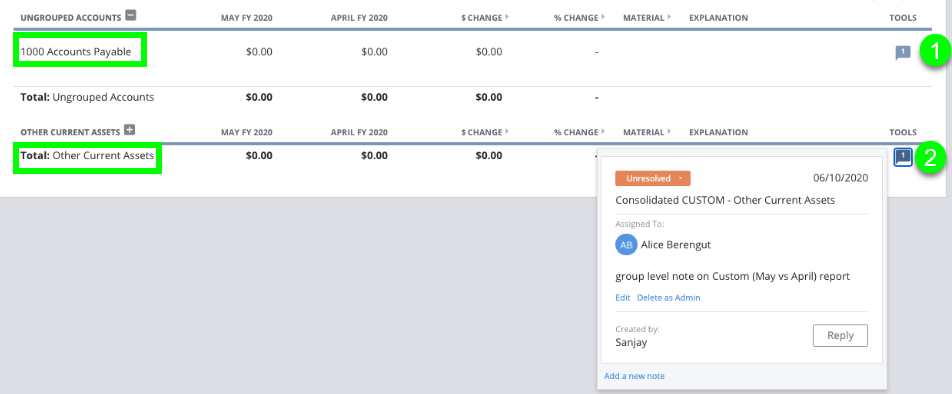 A Flux Review Note can be assigned to a particular individual or left unassigned. If assigned to someone, the assignee will be notified via email (or Slack) if they are subscribed to "Review Notes Notifications" in their User Settings.

Flux Review Notes have three Status options:
Unresolved: Issue outstanding/communication ongoing, or perhaps still under review
Resolved: Issue has been resolved (perhaps marked as such by the assignee)
Closed: Issue resolved and will not be re-opened. Officially closed (perhaps marked as such by original note creator)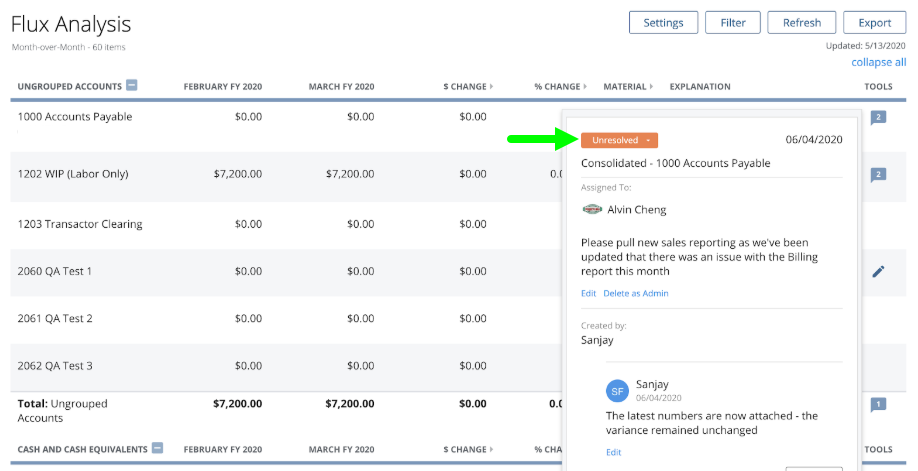 To help efficiently identify outstanding items, you may filter by "Open Review Notes" on any given Flux Report:

You may also view a condensed list of your Flux Review Notes from the Review Notes tab. There is a new section specifically for Flux, which will be visible to the right of the pre-existing entity list (the entities are where you can view Review Notes left on Checklist items, Reconciliations, and Documents in a respective entity).

From the "Flux Reports" view on the Review Notes tab, all of the Flux Review Notes will be sorted by their status. You may further filter these views to identify open action items for yourself or your team.

Note: The "Review Notes" tab requires you to select a fiscal period (e.g. May 2020). When leaving a review note on a Month-over-Month report, the note will be affixed to the later month (e.g. a note left on the May 2020 over April 2020 report will be associated with the month of May 2020). A review note left on a non-monthly report (i.e. Quarter-over-Quarter, Year-over-Year, QTD, YTD) will be associated with the last month of the later comparison period (e.g. a note left on the Q2 2020 over Q1 2020 report for a 12/31 Year End client will be associated with June 2020).