FloQast has an option to set up account reconciliations to tie out automatically if a certain value is met from the Trial Balance. This is helpful when there is no expected change in balance for an account period over period, such as a clearing account or fixed asset. Many companies use this for their zero balance accounts as well. The Fixed Balance amount entered will replace the need for a supporting document, and the value will therefore be displayed in the "Per Excel" column within FloQast for the respective account.
The system can even automatically sign-off for the preparer and reviewer on any Fixed Balance account if the value from the ERP matches the amount designated in the Fixed Balance field. This is possible using Auto Sign-Off in conjunction with Fixed Balance.
Admin users can set up Auto Sign-Offs by navigating to the Manage Reconciliations tab under settings, then clicking each individual account for which they would like this to be enabled.

Fixed Balance amounts can also be enabled on the Reconciliation Template, where they have a dedicated column.
Auto Sign-Offs must be enabled within the user interface under the Manage Reconciliations section of the Admin Settings. This can be enabled account by account, unless you want to enable Auto Sign-Off for all Fixed Balance accounts at once. In this case, the 'Default Auto Signoff' setting within the Reconciliations Settings will enabled Auto Sign-Off for all future accounts that have a Fixed Balance added. Selecting the "Apply this setting to all existing reconciliations" button will check the box next to any account that already has a Fixed Balance value specified.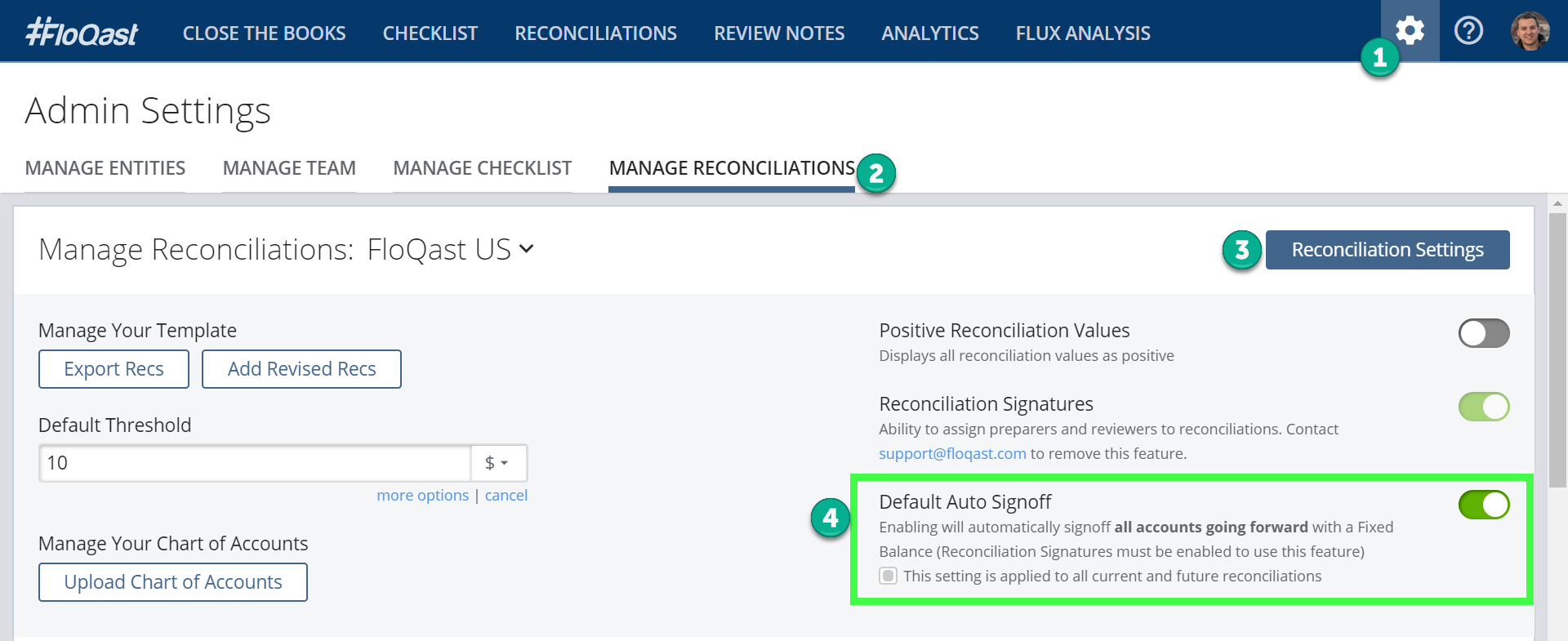 As with all template settings, this will need to be Saved and applied to applicable months. Once applied, the Fixed Balance and any applicable Auto Sign-Offs will be displayed the next time the balances are Refreshed in FloQast.
NOTE: If you upload an Excel workbook with a #FQ reference, the value beside your #FQ will supersede the Fixed Balance amount. If an Excel workbook is uploaded to override the Fixed Balance amount, then a manual sign-off is required. The Auto Sign-Off feature works in conjunction with the Fixed Balance feature, so a system-generate sign-off will not be executed if an Excel workbook is uploaded.