Admins and Managers can build new reports from the settings pages or you may be sent to the 'Create-A-New-Report' page if it is your first-time visiting Flux Analysis.
1. First, click on the kebab icon (A) and then select "Create a New Report". Alternatively, you can also go to Settings (A) and then click on the "Create a New Report" button (B).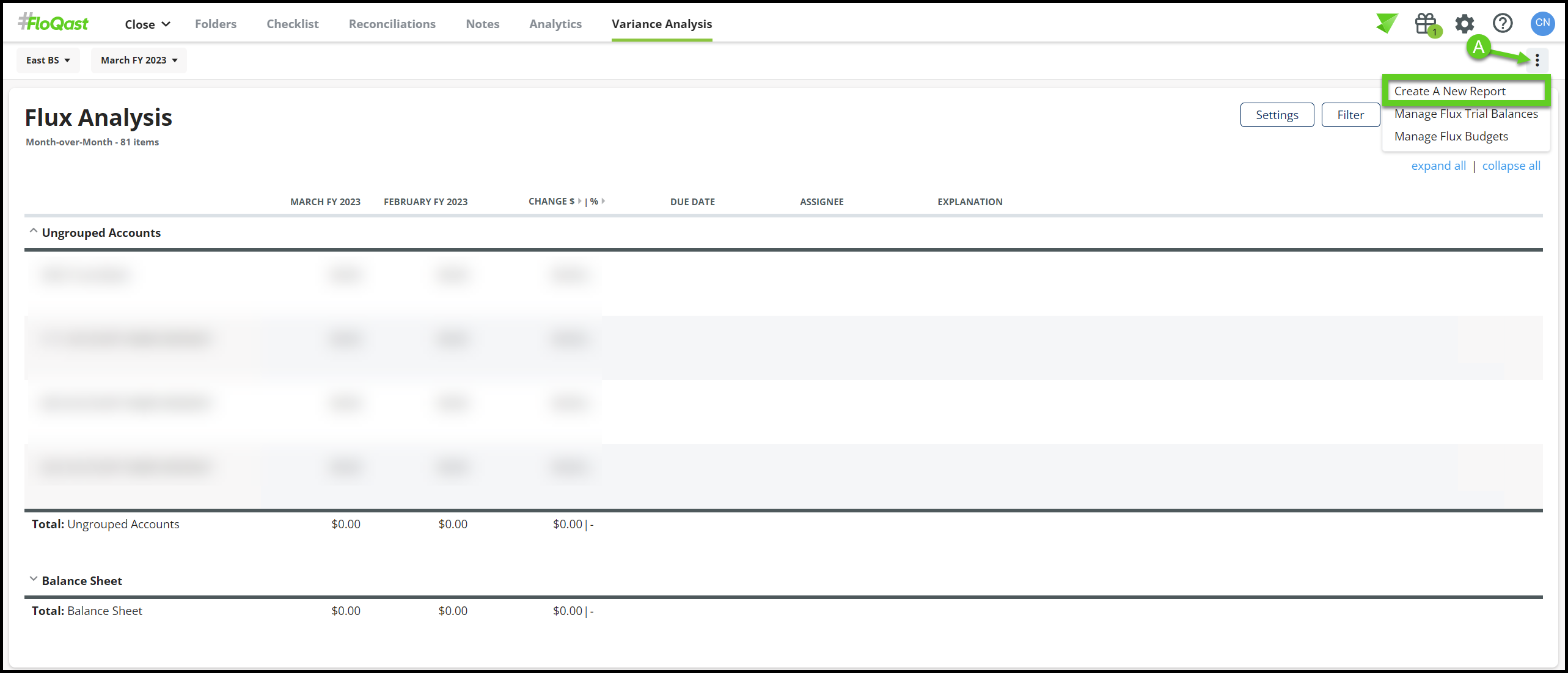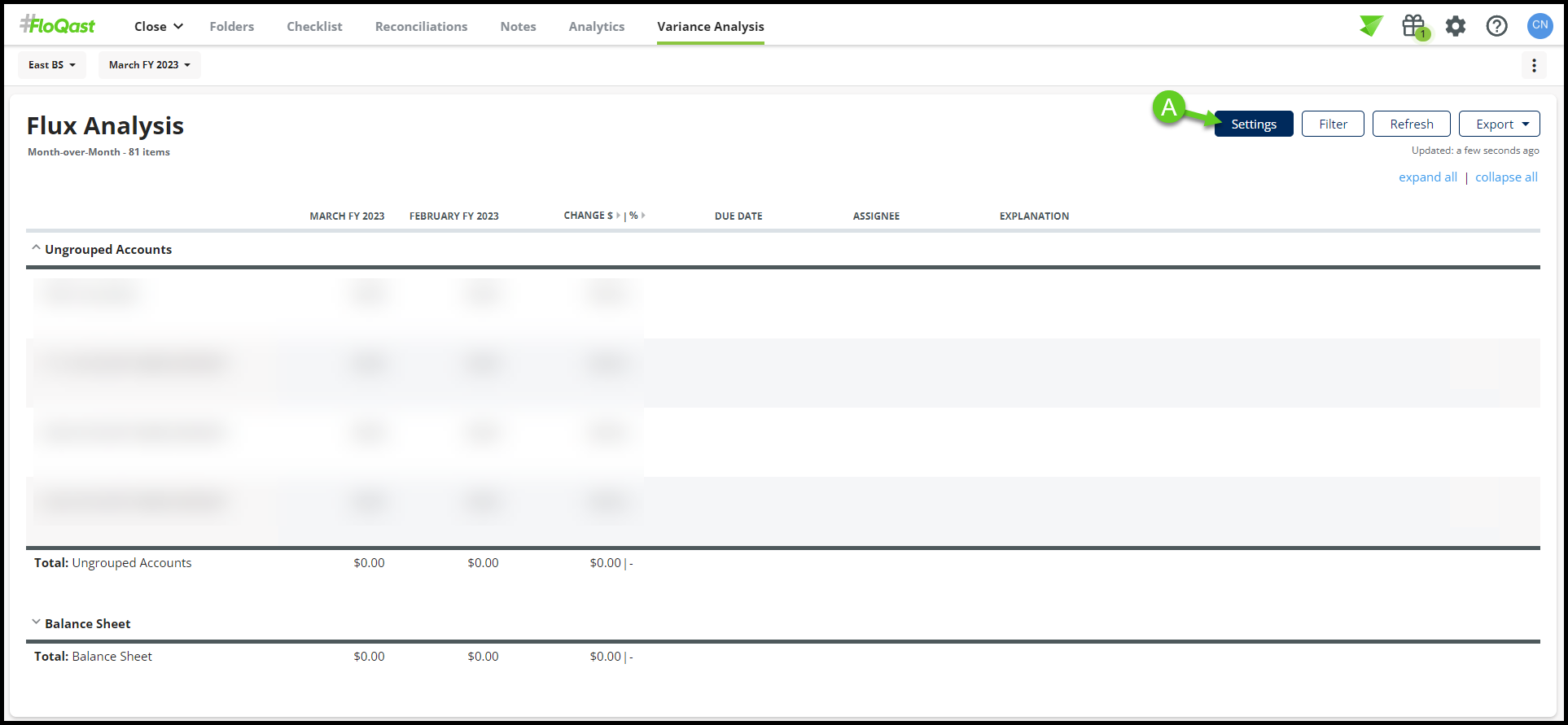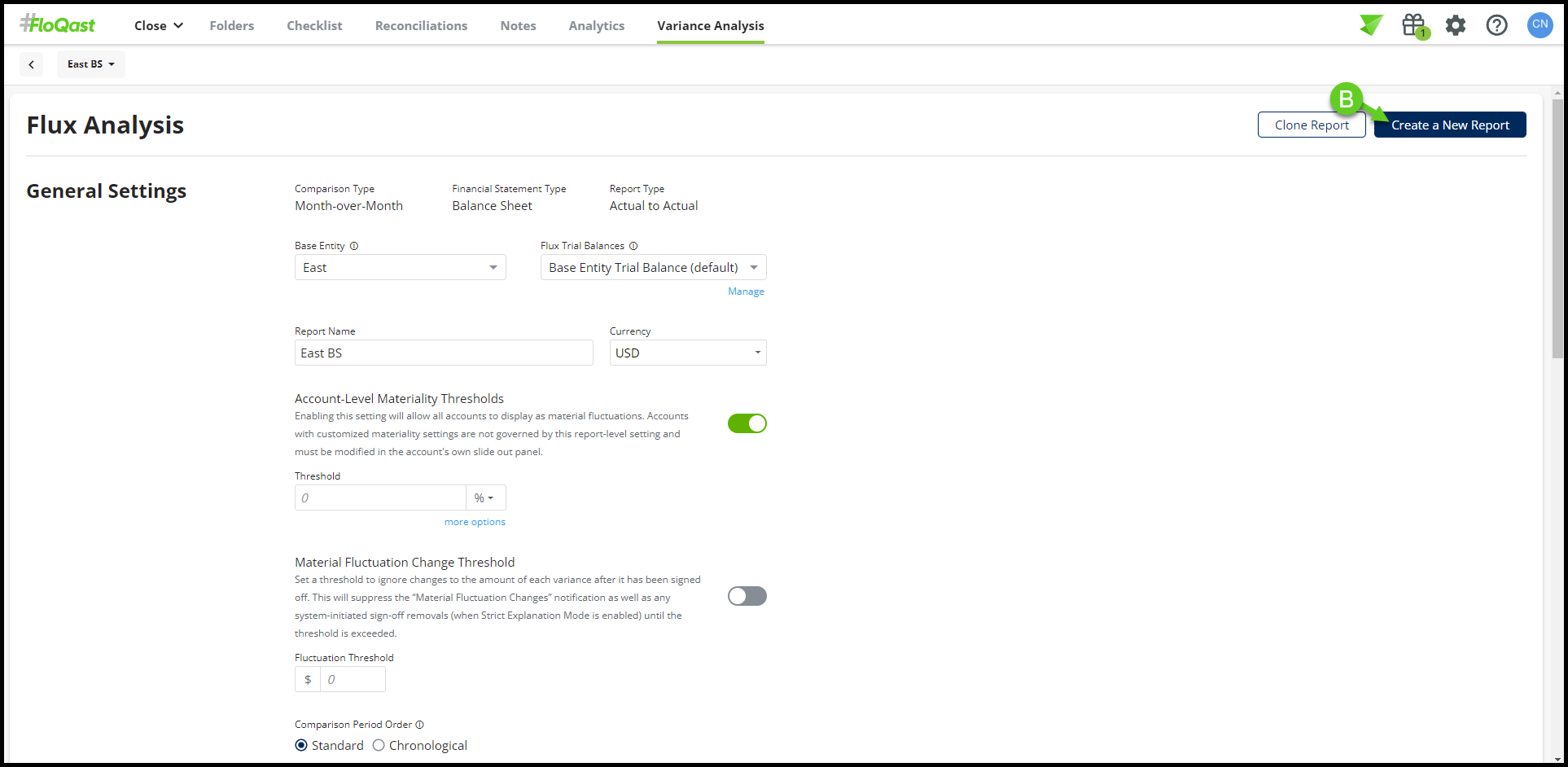 2. You will then be taken to the "Create a New Report" page where you can specify the settings you'd like for your report. You'll need to make sure to do each of the following:
(A) Name the report. At FloQast, we typically name ours using a 'Company name, Report Type, Comparison'. If you have many reports, we would advise you to name the report in a similar fashion to make the reports easier to identify and select from the Flux Reports drop down.
(B) Select the Comparison Type. The 'Comparison Type' is specific to the report you create. Therefore, if you select the 'Month-over-Month' comparison, the only comparison available on that report will be the current month vs. the immediately preceding month. The available options are:

Month-over-Month
Month-to-PYMonth (Same Month from the Previous Year)
Quarter-over-Quarter
Quarter-over-PYQuarter (Same Quarter from the Previous Year)
Year-to-Date
Fiscal Year to PYE (Previous Year End)
Custom (Current Options with dual drop-down)

(C) Select the Base Entity. This report will pull in GL accounts and balances based on this entity.
(D) Select the ERP source for your Budget file. The choices are:

Intacct Department Level Budget
NetSuite Department Level Budget
TB Upload Budget File

(E) Set the Report Type to 'Budget to Actual'.
(F) Select the Financial Statement type (either BS or IS).
(G) Click 'Manage Budgets' to upload your Budget file(s). Prior to uploading, please contact support@floqast.com to set up the mapping for any new Budgets. Please see FloQast's Budget file requirements here.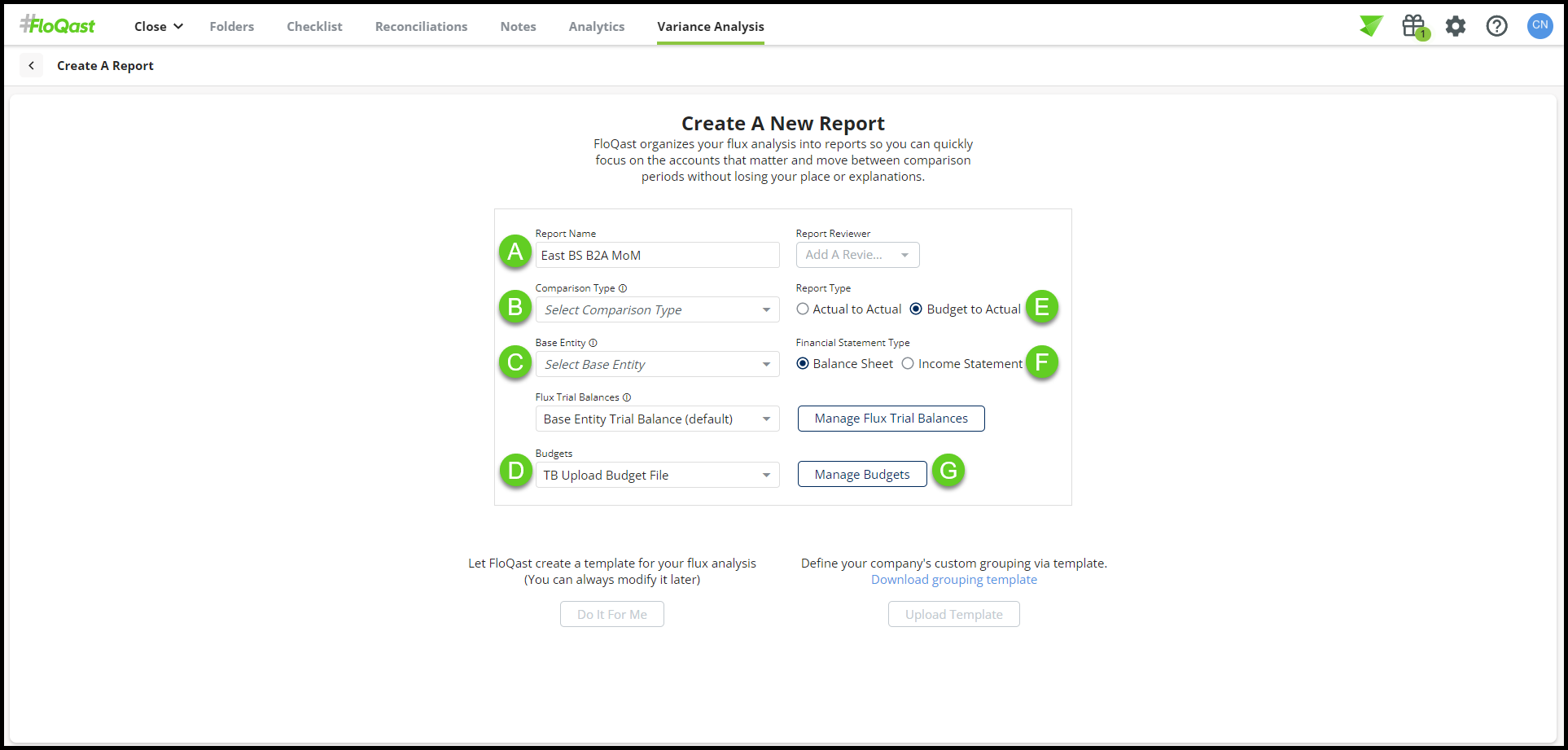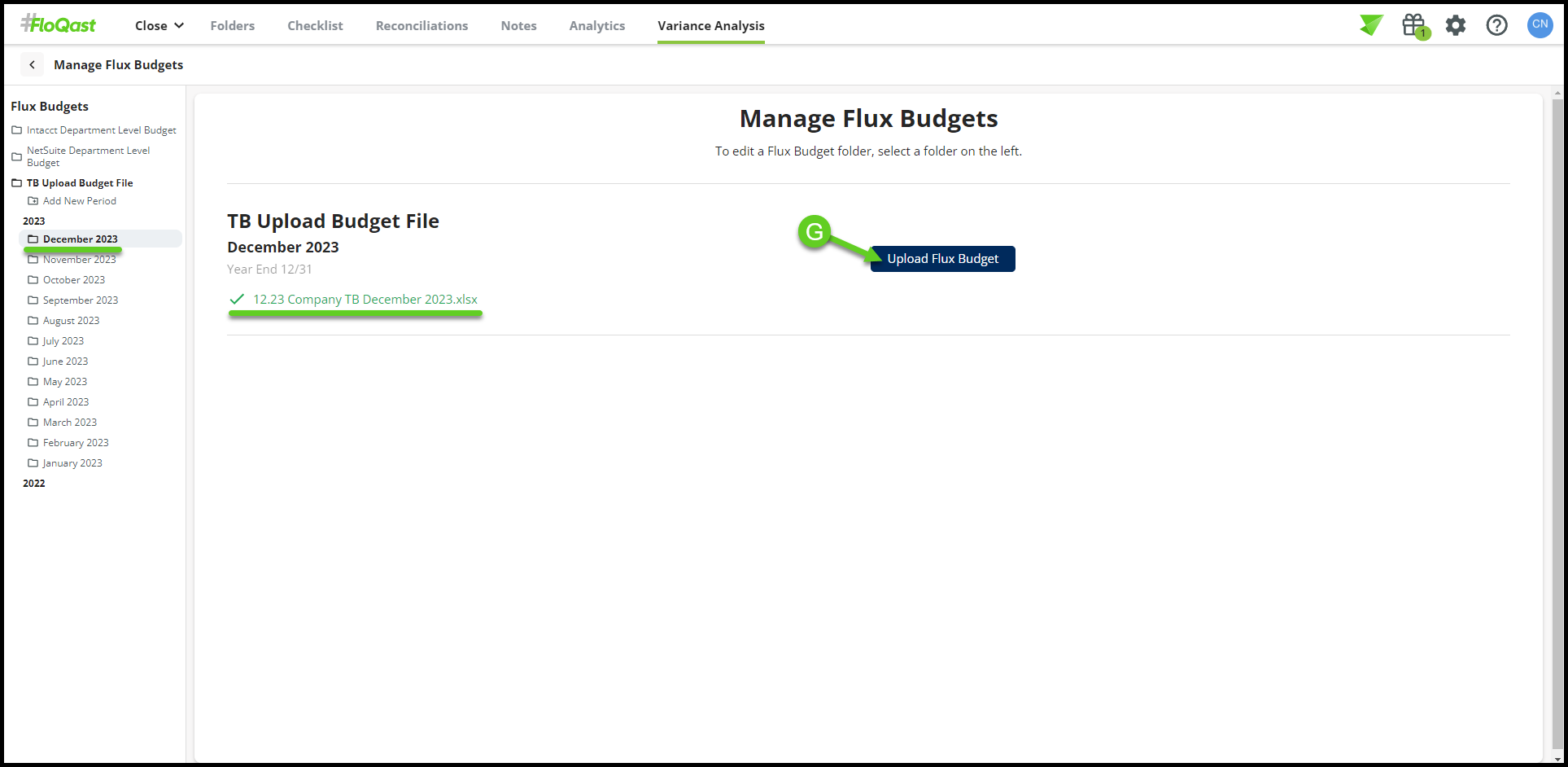 3. Once all the required report information has been filled in, you will be presented with two options, "Do It For Me" or "Select/Upload Template".
(A) Do It For Me

 

allows FloQast to take the first pass at the grouping with the click of a button.

 

Do It For Me

 

is a great option if you want to get started immediately and are open to fine-tuning your report as you progress.  
(B) Select/Upload Template allows the user to select a previously created Flux Template or to create an entirely new grouping. 'Uploading' your own template would be advisable if you have a complex flux analysis, or if you would like to leverage the best practices knowledge of our FloQast team.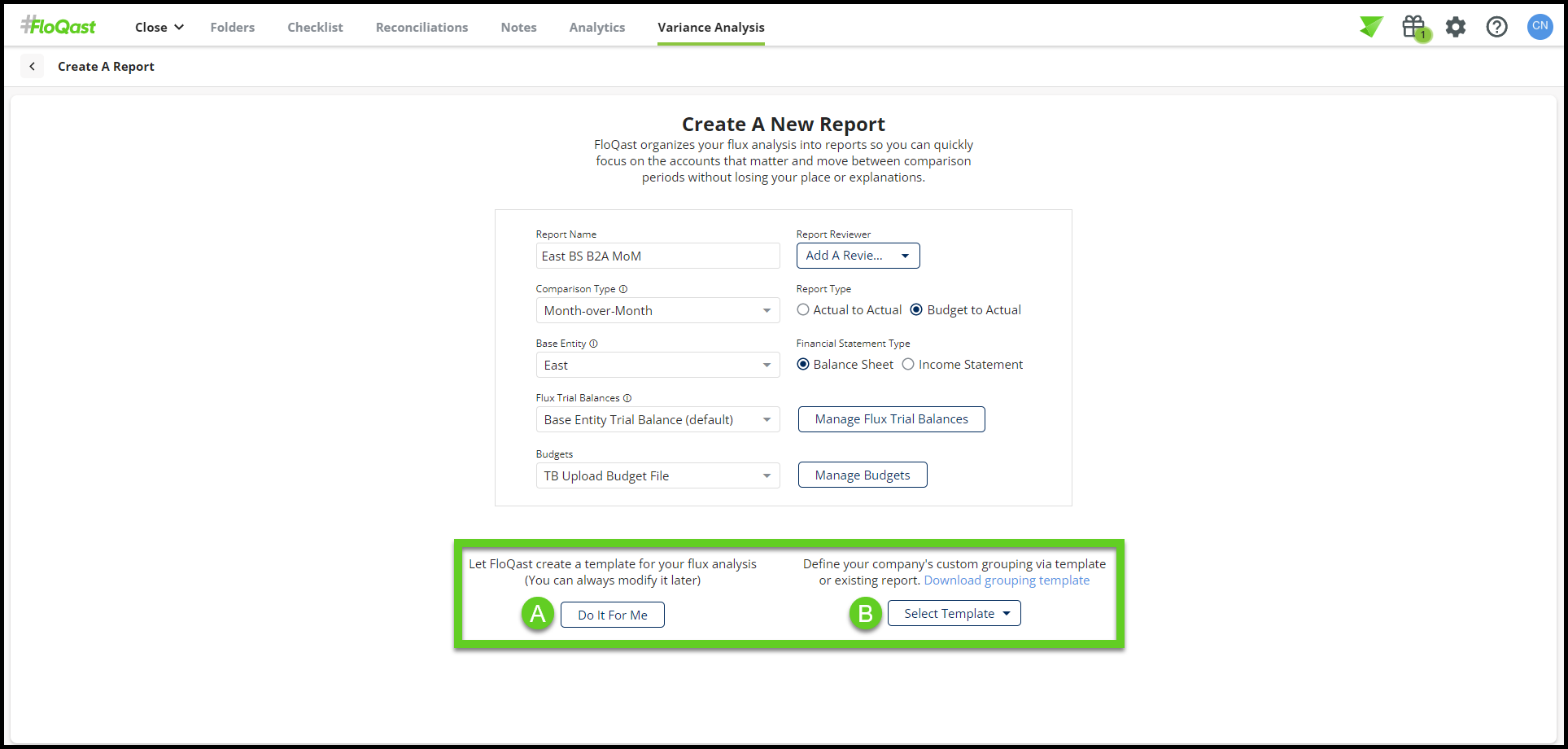 5. Lastly, click "Run Report" and ensure that the budget numbers have been imported into FloQast.