While in the Compliance Management workflow clicking on the FloQast logo in the upper left will lead you to the Dashboard.
From here, you will see a graph illustrating Control Performance Status by month.
The Graph has a separate bar for each month, the colors are as follows:
Green:

Items linked to the control have been signed off.

Orange:

Items linked to the controls have NOT been signed off.

Grey:

No linked items. Controls exist, but no Checklists or Reconciliations are linked to them.

Clicking into one of the month's bars will let you dive deeper into the month's Control performance. You will be able to see the Control Performance Status by Process, and hovering over the different colors will provide insight on the actual number of Controls and the percentage that make up the different statuses.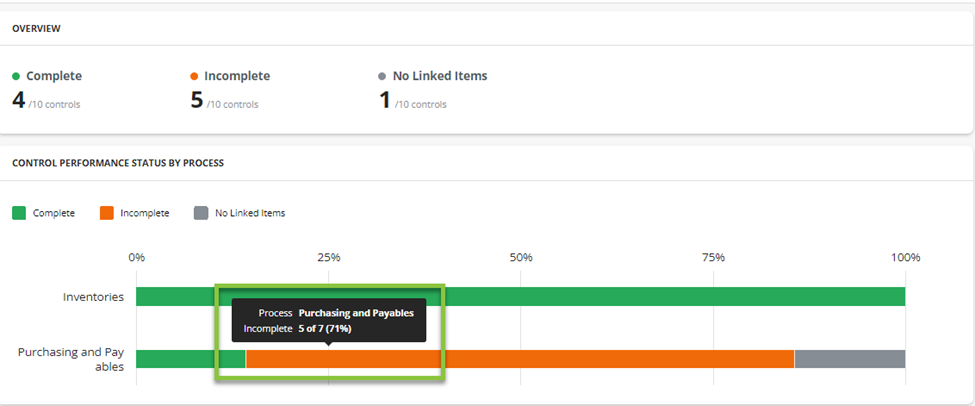 From this view, you can toggle between different Audit Projects and Months by using the toggles beneath the FloQast logo.

Testing Dashboard
If you have Testing included in our contract, you will see an additional dashboard sitting beneath the Control Performance Status dashboard.
When hovering over any of the Testing Phases progress bars, you will be able to gain insight into the Phase's testing progress. You will be able to see the amount and percentage Complete, Ready for Review, To be Prepared, In Progress, and Started.
Clicking on any of the progress bars will let you drill down into a specific Phase. From there, you can click on any of the different statuses, and it will bring you to the Tests page filtered to see the specific controls.