FloQast Ops is our workflow manager that extends the power of FQ Close to connect accounting operations both upstream and downstream from the Close. This powerful tool will give you better control and transparency into all of your accounting operations.
You will see in the Entity Settings that each entity has a workflow assigned to it, and when you create new entities, you will have the option to assign each entity a workflow. Note that by default, entities are mapped to the "Close" workflow type.


Additionally, you can move an existing entity into a different workflow from the Manage Entities tab or Manage Workflows tab. To start using FloQast Ops, either create a new entity in a workflow other than the default "Close" workflow or move an entity into a different workflow type.
FloQast Ops includes the following workflow types: Reporting, Compliance, FP&A, Payroll Processing, and Operations. However, we understand that these workflows can mean different things to different companies based on their organizational and business needs, so the workflows can be renamed to best reflect the tasks tracked within. Click here to learn more!
Tip: Change the calendar settings for entities in non-close workflows to our Non-Close Calendar to have due dates populate in the current month.
Once you have entities in multiple workflows, you will notice a few changes around the FloQast application. First, the navigation bar will now specify what workflow type you are working in. Second, the tabs you will see across the top of FloQast will differ based on the workflow type that has been selected in order to better streamline and present the most relevant information. For example, the Reconciliations tab is only visible under the Reporting and Close workflows.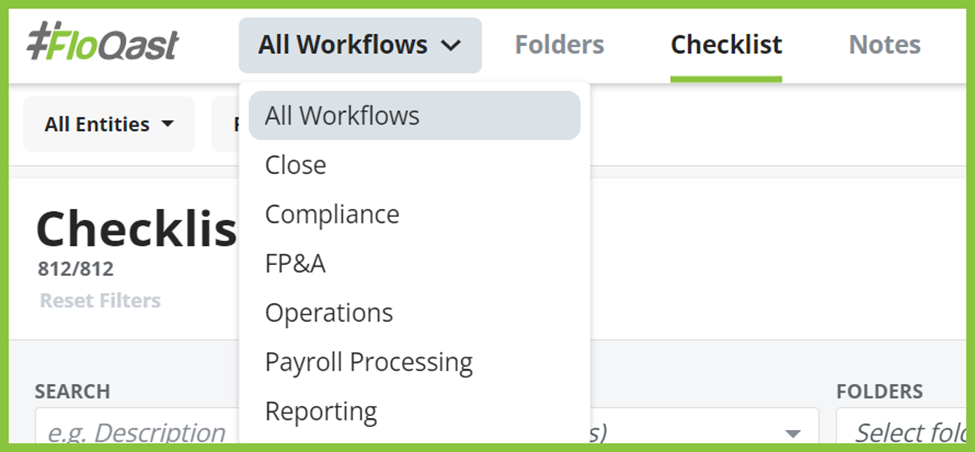 Finally, on the Dashboard tab, if you are on the All Workflows view, you will see the new All Workflows Dashboard, which allows you to quickly see the progress of all your workflows at once.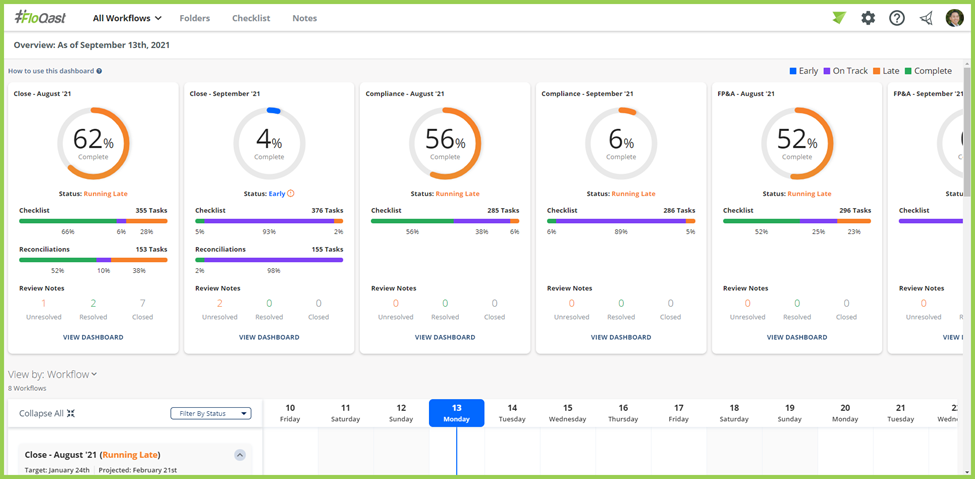 With these new features, you can use FloQast to track so many workflows beyond the close. Please reach out to your Customer Success Manager or support@floqast.com for more information.