FloQast ReMind automates document and data collection workflow. With ReMind, smart accountants get the job done faster and avoid frustrating follow-up for data requests. Instead of endless cycles pinging people until they get what they need, ReMind users automate data requests and follow-up while ReMind automatically organizes the information received.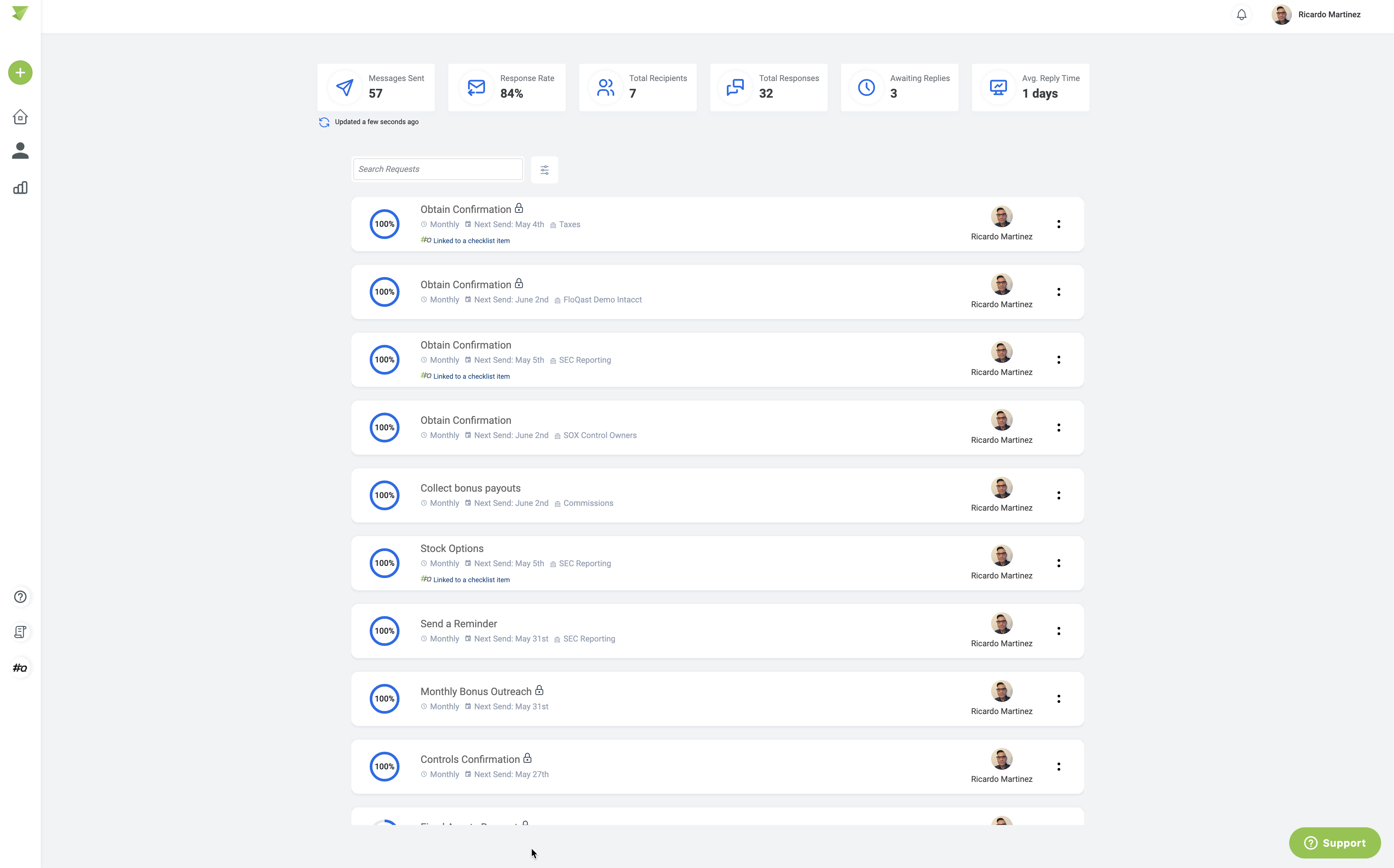 Why did we build FloQast ReMind?
FloQast believes accountants should work smarter, not harder. Ever since FloQast was founded by former accountants, we have been passionate about driving efficiencies for Accounting and Finance teams. We started by building integrations with the apps accountants use the most - the ERP & Excel. The other application that all accountants use is email, so we wanted to build an integration and automation around that too.
Why use FloQast ReMind?
FloQast ReMind is for anyone who hates making data requests, then following up on those data requests, and then following up on those follow-ups... So, FloQast ReMind is for anyone!
If you need to collect information from other people (inside or outside your company) in order to complete your work, then FloQast ReMind can help save you precious time. Today, most accountants simply send an email asking for the necessary information. Unfortunately, it is difficult to track progress with this manual style, and the burden is on the accountant to hound their colleagues and associates if they haven't submitted a timely reply. What's more, another manual step is required to consolidate the results across multiple sources. If these frustrations feel all too familiar, then FloQast ReMind can help automate these workflows for you!
What are some use cases for FloQast ReMind?
FloQast ReMind is flexible enough to help automate any kind of data request, but some of the most popular request types are highlighted below.
Internal Requests:
Bonus Accruals

Marketing Accruals

Sales Ops Data for Revenue Process

HR Headcount Reports
External Requests:
Vendor Accruals

Legal Accruals

Partner Usage or Royalty Data

Quarterly Investor Requests
How can I learn more about FloQast ReMind?
The rest of this section is filled with articles that highlight the features of FloQast ReMind and guide you through creating your first request.
Please feel free to contact your dedicated Setup contact, your Accounting Success Manager, or support@floqast.com for more info on FloQast ReMind.