The Dashboard will be your landing page for FloQast ReMind. You can create a new Request from this Dashboard just like you can from the Create tab. Most importantly, you can view the status of your team's ReMind Requests, edit or deactivate your Requests in progress, and export your results to efficiently review the data and take action!
The name and profile picture of the team member that created a request will be displayed from the dashboard so you can quickly distinguish between your Requests and others' Requests: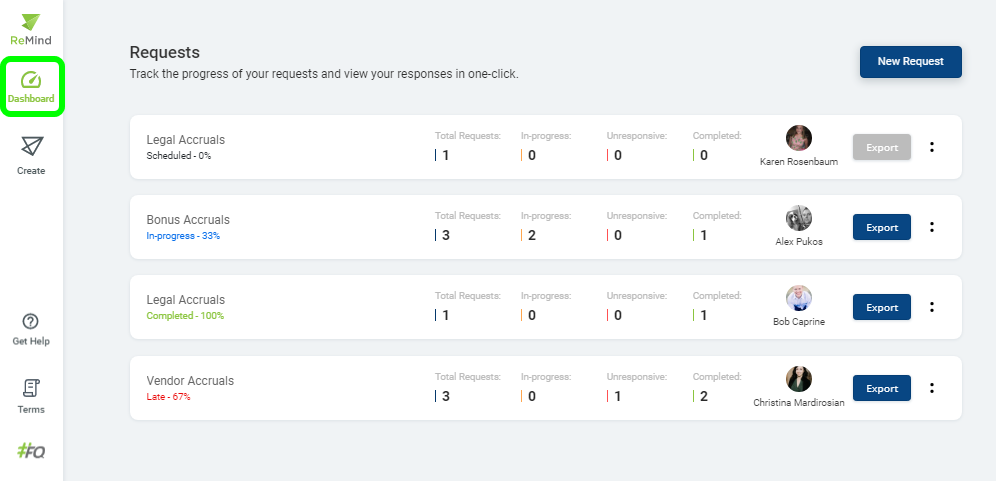 Possible Status for a Request
Scheduled = Request has a future start date, so the Initial Message has not been sent yet.
In-progress = Initial Message has been sent to recipients, but not all have replied yet. The percentage of Contacts that have replied will be displayed.
Completed = All recipients replied with the requested data! Well done- you are ready to export and review.
Late = Initial Message and Follow-Up Message have both been sent, but the due date has passed and one or more Contacts has failed to reply with the requested data. The percentage of Contacts that did reply will be displayed.
Edit an Existing Request
An existing Request can be edited by clicking the two vertical dots and selecting Edit.

A screen will load with the summary of the Request details, which can be edited much like the Review Request page during the creation process.
Deactivate a Request
An existing Request can be deactivated by clicking the two vertical dots and selecting Deactivate.

A popup will appear to confirm the deactivation. Once deactivated, no further emails (Initial Message if scheduled, or Follow-Up if the due date has not passed) will be sent.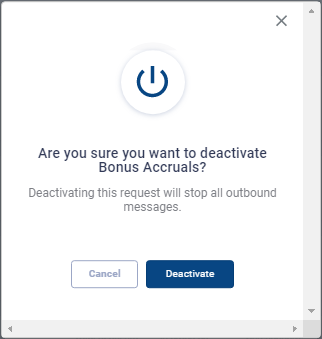 Export Results
Once your Contacts have replied to your Request, you may export the results to review the data submitted. You do not need to wait for 100% of recipients to respond- you may export the results as soon as one or more has replied with their data.

The results will export to an Excel file for you. The headers of the file will be the headers captured from your original table. There will be an additional column added to specify the Respondent.
The data that was provided by Respondents will be summarized as pictured below. Multiple lines of data from a single Respondent will be grouped together, and all Respondents will have a blank line between them to separate the data.
If a Respondent had no data to submit, they should have replied via email with "None" or "N/A" in the body of their message. These responses will be displayed on the export with a note that the "User responded with no data."