FloQast AutoRec leverages AI to automate the reconciliation process, saving your team hours or even days each month. You can get started in minutes by simply uploading Excel or CSV files. Below you'll find highlights of the constantly improving AutoRec features, complete with links to comprehensive articles to help you perfect your own AutoRec process.
To start matching transactions, you'll need to upload a pair of source files. These can be from your ERP, bank, AP Processing System, or any other financial system that you need to perform a reconciliation for. The good news- there are no rules or standard format that your files need to be in. You can upload two .xlsx or two .csv files in their natural format. FloQast will simply need to know which columns/rows to pull your data from, and you can specify the format in the AutoRec Settings. Click here to learn more!

When you upload your files, the AutoRec AI engine will automatically create as many matches as possible using the above fields: Date, Reference 1, Reference 2, and Amount. Matches can be made 1:1, 1:Many, and Many:Many. In addition to matching transactions between files, AutoRec will also look for same-sided matches (for example: a reversal journal entry, or an e-commerce return). Any matches that aren't automatically made by the engine can be added by your FloQast users within the AutoRec module. Click here to learn more!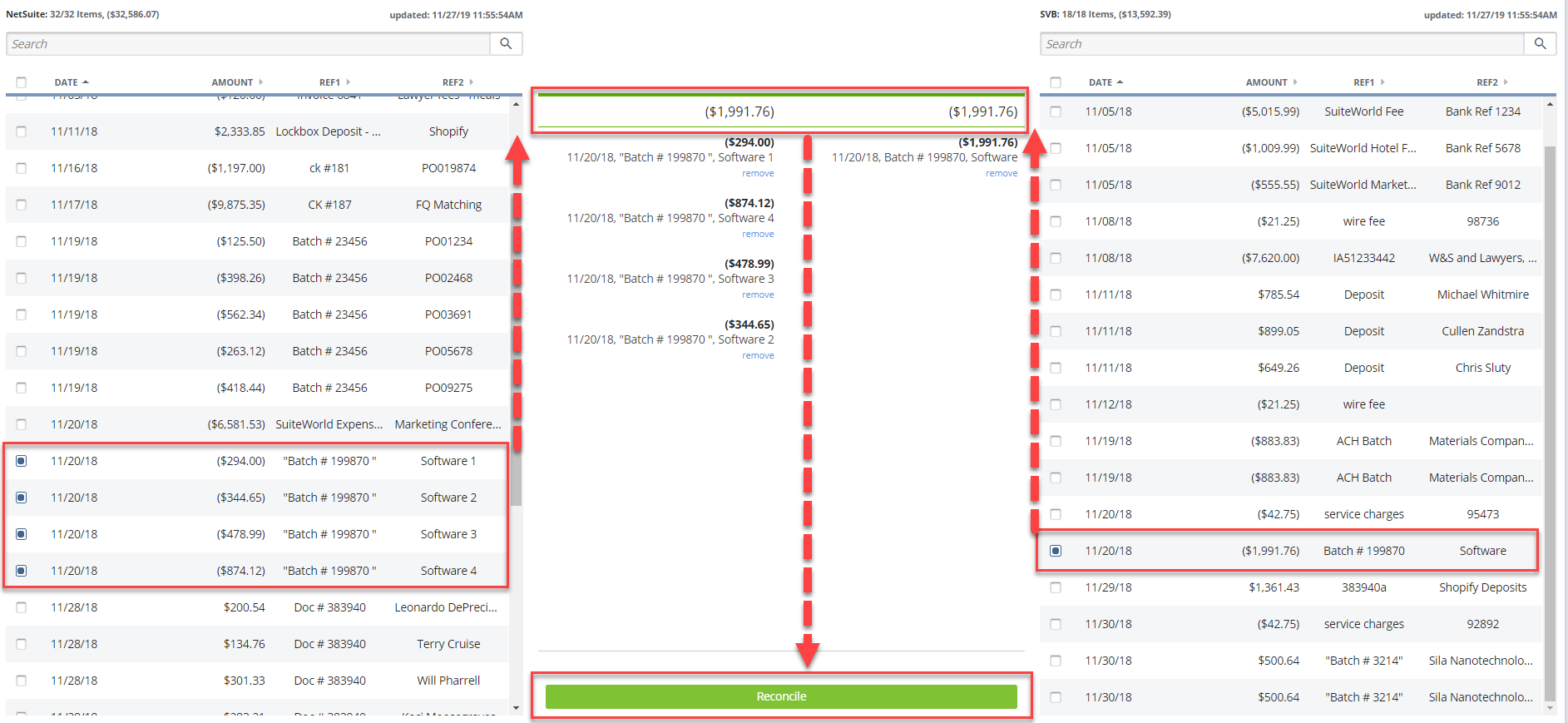 After you've uploaded your initial source documents, you may wish to add more transactions that occurred throughout the month. No problem- you can utilize "Progressive Reconciling" to upload additional files (only one source required). This additional upload can include only the new transactions, but it can also include repeats from your original file uploads. If there are duplicate transactions, AutoRec will overlook those repeats and only import the delta. Click here to learn more!

As you finish matching up all of your transactions for the month, there may be some left over that cannot be processed this month (for example, transactions that haven't cleared the bank yet and therefore will appear on your next statement). In this case, you easily can Roll Forward Outstanding Transactions to the following month. Click here to learn more!

By default, the AutoRec engine will match transactions to the penny. Any unmatched transactions can then be matched manually, also to the exact penny. But perhaps your financial systems are off by a couple cents here or there- this won't prevent you from building a match and moving on with your reconciliation. You can set a Match Threshold that allows matches to be built if their summed difference is less than the specified value. Once you are done, this Difference can even be used to book an adjusting entry for the period. Click here to learn more!
Questions or feedback about FloQast AutoRec? Please contact your Customer Success Manager or reach out to support@floqast.com!