If you have access to several entities in FloQast, your entity drop-down menu may be very long! Up until this point, that list of entities has always been sorted alphabetically. But now you can pin entities as your "favorites" to move them atop the list! 
To add an Entity as one of your Favorites: 
Navigate to the Single Workflows Dashboard tab in FloQast by clicking the FQ logo and selecting an individual workflow

Click the Timeline view, then select view by Entity

Click the Star icon next to the entity or entities you want to favorite!

Your new "favorited" entity will be moved to the top of your Dashboard. All non-favorite entities will remain in alphabetical order below:

Favorite Entities will be pinned atop the entity drop-down menu throughout the application.
Before, your entities appeared in alphabetical order: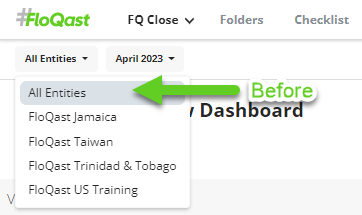 Now, your favorites are pinned to the top for convenient access: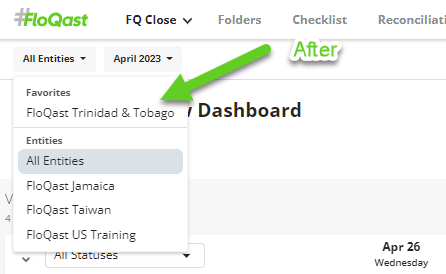 If you choose multiple Favorite entities, they will be displayed alphabetically among your favorite selections. Then your non-favorite entities will be sorted alphabetically below.